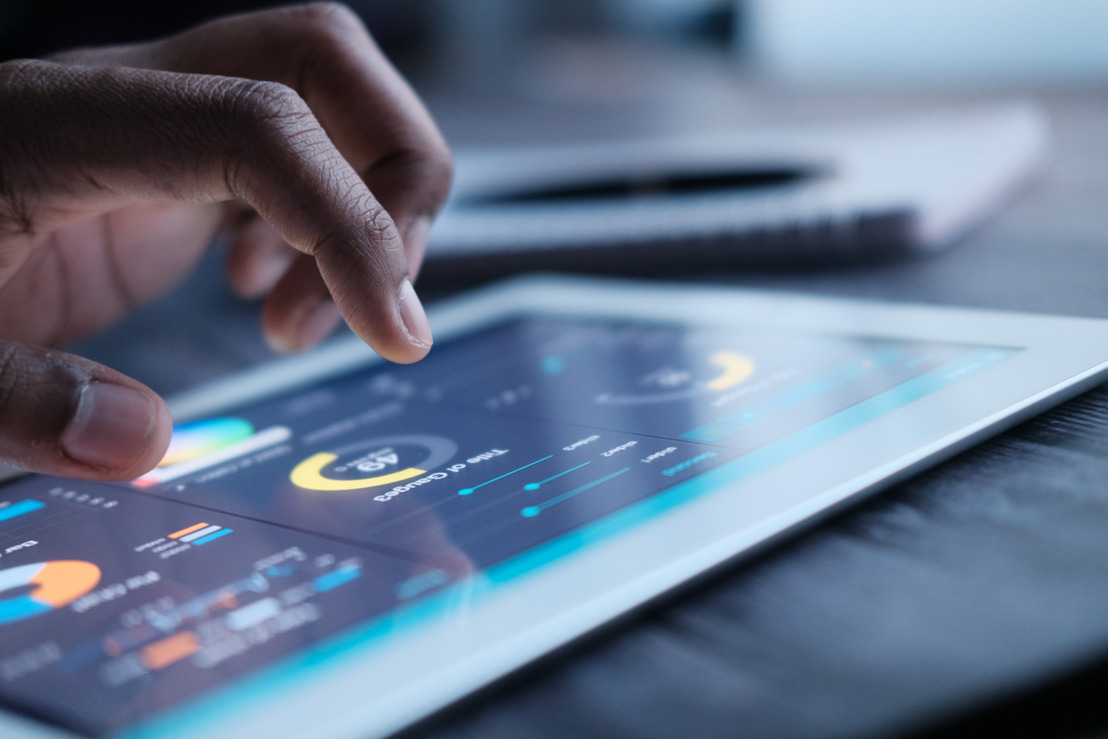 The global economy in 2021: rapid, but uneven growth
PwC Global Economic Outlook 2021
By the end of 2021, the global economy in aggregate should expand again by around 5% in market exchange rates; Eurozone grows somewhat slower at 4.2% in market exchange rates.
Recovery will be uneven across sectors, countries and income levels.
2021 will be a pivotal year on climate issues: Global green bond issuance will exceed USD 500 billion for the first time.
16 February 2021 - In its latest edition of the Global Economic Outlook for 2021, PwC projects the world economy to grow at market exchange rates by about 5% in 2021, the fastest pace recorded in the 21st century. This will return the global economy to pre-pandemic levels by the end of 2021 or early 2022. However, economic recovery will be uneven across sectors, countries and income levels. PwC also expects that 2021 will bring a real greening impulse. For example, the value of issued green bonds will, for the first time, exceed $500 billion.
Growth will return but be uneven
Global economic growth is expected to reach 5% by 2021. In Belgium, GDP growth is expected to be around 4% (NBB, January 15, 2021 forecast). Nevertheless, the next three to six months will remain challenging. For example, output in some advanced economies could even contract again in the first quarter. As a result, global economic growth is more likely to pick up in the second half of the year, when the major advanced economies have vaccinated at least two-thirds of their populations. In economies such as the United Kingdom, France, Spain and Germany, a growing but lower level of output is expected to lead to a rise in unemployment rates.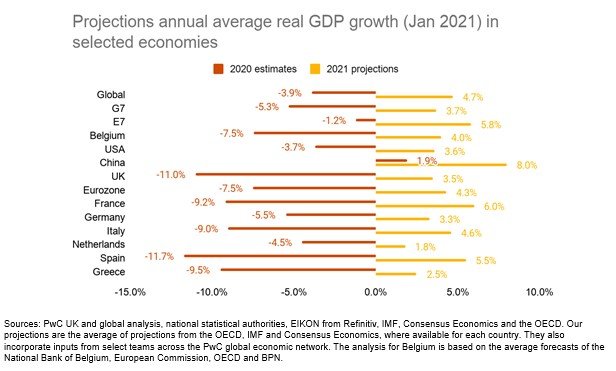 Axel Smits, Chairman at PwC Belgium, said: "While it is good news that the global economy as a whole could return to pre-crisis levels by the end of 2021 or the beginning of 2022, it is important to remember that a well-functioning economy relies on trust, in governments, in businesses, in our institutions. COVID-19 has severely tested the adaptability of companies, governments and our entire society. An effective recovery from this global crisis requires that we also prioritise rebuilding trust and thus our ability to respond to new challenges. Therefore, it will be crucial - for business but also for government - to think about how we can rebuild our society and make it fit for the future - and in doing so, draw sufficient lessons from the past year. Only when we accept that the world will look different after COVID-19, will there be many opportunities to embrace this new context".
Green impulse
The environment will be an important focus for 2021 and is already being positioned as an opportunity for accelerating the business and policy transition to net zero. Green bonds, which are used to directly finance environmental projects, currently make up less than 5% of the global fixed income market. In 2021, total green bond issuance will increase by over 40% to top half a trillion US dollars for the first time. In addition, investor appetite for Environmental, Social and Governance (ESG) funds will continue to increase and could account for up to 57% of total European mutual funds by 2025. Globally, the analysis points to electricity production from renewables continuing to gather momentum, with solar photovoltaic (PV) capacity likely to grow at rapid rates on the back of growing capacity in the EU, India and China. If current trends continue, solar PV capacity is on course to surpass natural gas in 2023 and coal in 2024 in the global electricity sector.
"In 2021, major shifts in green investments and policies will be taking place in the major trading blocs, including the U.S., China and the EU. Most notably was the fact that shortly after his inauguration, U.S. President Joe Biden immediately signed an executive order returning the United States as a member to the Paris Climate Agreement. Once the virus is under control, policymakers' attention will need to focus on laying the foundations for sustainable and inclusive growth with particular focus on creating jobs and pushing the green economy agenda. Businesses should not wait and can start planning now for both growth and investment", concludes Axel Smits, Chairman at PwC Belgium.