Skills shortages cost Belgian private businesses EUR 3 billion in 2018
Belgian private businesses are more optimistic about revenue growth than their European colleagues. In 2019, 78% of Belgian respondents expect revenue growth, compared to 69% in 2018. At a Western European level, in 2019 only 57% expect growth in future, compared to 65% the previous year
Economic losses / unrealised revenues due to skills shortages in Belgian private businesses are estimated at EUR 3.1 billion in 2018
64% of Belgian private businesses say digitalisation is key for long-term viability of the business...
But 58% of private businesses surveyed in 31 European countries plan to allocate less than 3% of all investment to digitalisation in the next five years
Tuesday 3 September 2019 - Recent research from PwC shows that one of the biggest challenges for European private businesses is a growing skills shortage that is preventing them from hiring the right talent for growth. A PwC survey of private and entrepreneurial businesses across 31 European countries estimates that the skills shortage is expected to cost the region EUR 414 billion in lost revenues in 2019. That's around 2.6% of European GDP and is more than the combined annual GDP of Greece and Portugal.
Seeking the right skills
Companies today are having difficulty finding staff with the right skill sets. However, Belgian entrepreneurs are less concerned about this. However, only 23% of the 90 Belgian respondents said this is a problem for them, compared to 47% for Western Europe on the whole, and 41% in the Netherlands, 46% in Germany and 59% in France. Their optimism is also illustrated by the fact that the economic losses due to skills shortages are projected to be significantly less in 2019, falling to EUR 1.9 - an improvement of 1.2 billion compared to the previous year.
Philippe Vyncke, Entrepreneurial and Private Business Leader at PwC Belgium, adds some nuance. "The survey shows that Belgian private businesses are more optimistic than their European colleagues, with greater expectations of growth, and the conviction that despite skills shortages they will be able to seize more opportunities than in 2018. On the other hand, the perceived need for digital experts, engineers, techniciens, senior management and support staff is greater in Belgium than in neighbouring countries."
On the whole, 41% of private businesses in Europe said that technicians are top of the list of the profiles they need, followed by engineers and support staff.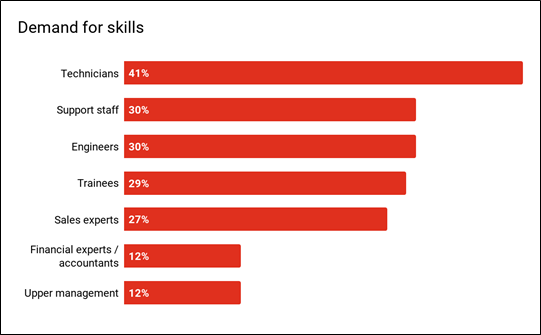 "The skills shortage in Europe has become an even bigger structural issue for private businesses," states Philippe Vyncke. "Nearly half of the leaders surveyed in the EU on average feel they lack the right talent in-house to realise the full benefits of their digital efforts. Increasing competition for talent in the labour market means private businesses should not try to avoid the spotlight. They can emphasise the advantages of private businesses, such as being able to focus on the long term, the high level of specialisation they often have, the international markets in which they operate, and the room given to their people for flexible and creative problem solving."
Digital transformation - mixed feelings
64% of Belgian private businesses say digitalisation is key for long-term viability of the business, which is in line with the Western European average (65%) but considerably lower than in the Netherlands or the UK (both 85%). Yet many private businesses seem to be just at the initial stages of digitalisation, a fact confirmed by the results of the survey. Overall, 77% of private businesses indeed said they didn't find the impact of artificial intelligence very relevant, and 79% did not find 3D printing relevant. Only 33% find robotics a relevant technology, and internet of things did slightly better at 46%.
"Digital transformation is disrupting every corner of the economy and private businesses are no exception," comments Philippe Vyncke, Entrepreneurial and Private Business Leader at PwC Belgium. "These technologies affect a broad range of industries, and are coming together to create the next wave of innovation. Private businesses shouldn't stay behind - the time to act is now, to ensure they minimise the risks and capitalise on the opportunities of digitalisation."
Conflicting investment priorities
Despite an increasing awareness of the need to embrace digital transformation, Western European private business leaders list a series of concerns regarding the implementation of new technologies: cost constraints (47%), staff workload (40%), lack of relevant expertise (36%), culture/resistance to change (33%), and risks associated with technology/cyber (31%). At the same time, 58% of private businesses surveyed in the 31 European countries plan to allocate less than 3% of their overall investments to digitalisation over the next five years - a striking contradiction. In Belgium, almost one quarter of respondents (23%) intend to allocate more than 5% of their investments to digitalisation.
When it comes to financing digital transformation, most private businesses in Europe - 76% in our survey - say they will fund digital efforts internally from cash flow, raising the question how a possible economic slowdown could affect this. When it comes to investing in a digital overhaul, only 5% of the European private businesses surveyed mentioned funding digitalisation via the capital markets. Another 8% said they would consider private equity or venture capital - in Belgium, none of the respondents were considering venture capital.
"Many more private businesses in Europe now recognise the importance of having a strategy for digital transformation; however, many are still just at the initial stages of digitalisation," explains Philippe Vyncke, Entrepreneurial and Private Business Leader at PwC Belgium. "Some owners and managers may misunderstand the scale of change required and how to fund and staff it. Getting this right can be an enormous benefit during difficult times and beyond. Companies that see digital transformation as the key to unlocking the next stage of growth - and get the implementation right - have a fighting chance of growing faster when the next upturn comes."
Read the full findings at www.pwc.com/epbs2019
Contact
Erik Oosthuizen
+32 490 582 284