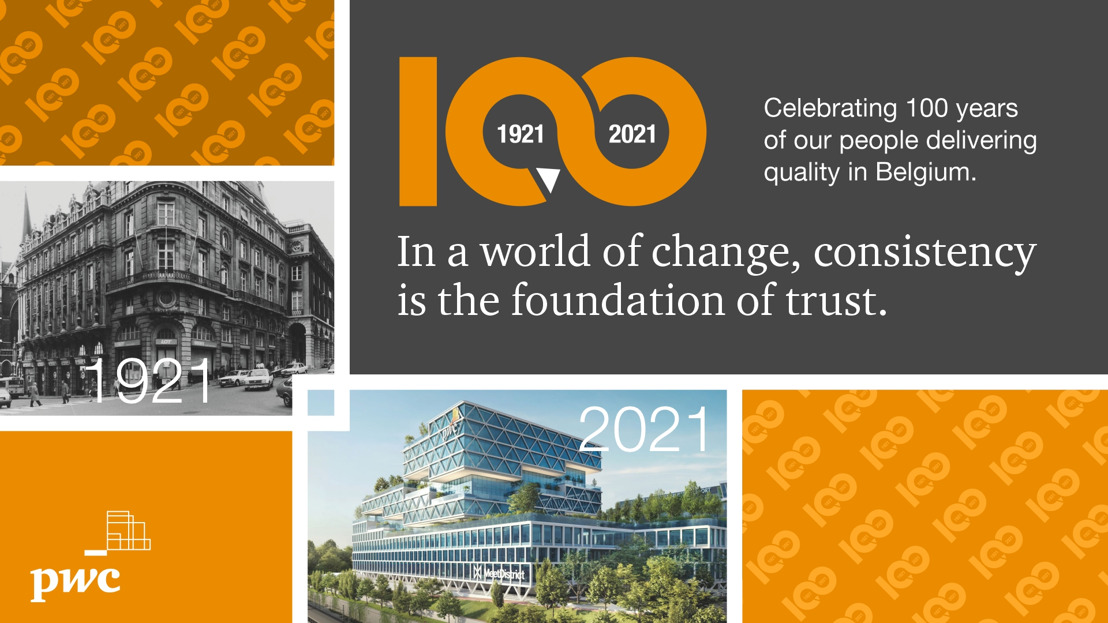 Thursday 11 March 2021 - Coming 13 March 2021 marks the 100th birthday of PwC Belgium, a milestone the firm has reached thanks to its unwavering ability to embrace change. In its 100 years of solving some of the most complex issues for organisations, much has changed in the world. As PwC Belgium prepares for the next century of delivering quality services in assurance, tax and advisory in Belgium, its commitment to building trust in society continues to serve as our guiding principle. To honor this century-long commitment, PwC Belgium looks forward to a celebration together with its 2,113 employees that will last over a period of 100 days.
A history with strong roots
While PwC was once PricewaterhouseCoopers, its journey in Belgium began when both Price Waterhouse and Coopers & Lybrand opened an office in Brussels in 1921 as a strategic place to tap into the European market. Price Waterhouse and Coopers & Lybrand joined forces in 1998 to create PricewaterhouseCoopers.In 2002, the company sold its consulting practice to IBM, preferring to concentrate on its audit, accounting and tax services and reaffirming its commitment to bring independent confirmations that can build trust in society. In 2010, the firm changed its name to PwC.
In order to offer its clients multidisciplinary support, PwC steadily rebuilt its consulting practice as of 2010, both organically and via selective acquisitions. In October 2013, portions of PwC Belgium's legal services practice were spun off to create Law Square, an independent multidisciplinary law firm for businesses and organisations, later renamed as PwC Legal.
A century of embracing change
From its very origins, our firm was driven by the highly specialised technical knowledge of its staff that was trusted with great financial responsibility. While in the early years, our firm was mostly driven by referred business from other PwC firms, PwC now relies almost fully on a self-supporting ecosystem of client projects, complemented with just a small portion of referred-in business. This led PwC in Belgium to become more strongly focused on client proximity and building relationships to broaden its local client base. It also led to a reorientation of the skills of our people, who had to develop more interpersonal and commercial skills, in addition to their core technical skillset. Innovation has been the key driver of this evolution. By the early sixties, our firm pioneered the early use of computer technology for audits and later, in 1972, the first computer assisted auditing techniques. By 2016, PwC Belgium started preparing the firm for the future with its extensive digital transformation journey.
Axel Smits, Chairman of PwC Belgium identifies the key lesson PwC has learned over 100 years: "It takes resilience and willingness to change to weather more than a century. Just as our profession invented itself over 100 years ago to build upon the new industrial world, PwC continued to reinvent itself as global developments changed society, each time expanding its remit, by creating deeper expertise in particular industrial sectors and markets."
A long-standing focus on quality and building trust
Throughout its long history, PwC has been focused on delivering quality and building trust. With the rise of the accounting profession, the value of independent confirmation was key for financial markets that needed assurance that an organisation was conducting its financial affairs with probity. 100 years later, that same commitment to building trust has never been more relevant. Today, PwC's main focus is to integrate societal interests into core business decisions and to prioritise environmental, social and governance (ESG) imperatives, from our own operations to the advice we give our clients. As an employer and a true people business, PwC has been keen in making our people our main focal point and becoming more purpose-led, offering a challenging and impactful work environment, characterised by diversity and attention to wellbeing, and focusing on training and growth opportunities to support its people and inspire them. PwC's own net zero commitment took shape in 2020, in which we'll take a series of measures to reduce our greenhouse gas emissions in line with science-based targets by 2030. With the recent completion of PwC's state-of-the-art Antwerp House and the opening of our new Brussels headquarters at PwC Campus in Diegem scheduled for 2022, PwC is taking strides in reducing its ecological footprint.
Axel Smits, Chairman of PwC Belgium: "As a leading professional services firm and employer, PwC has played an important role in shaping the response to and supporting the recovery from the major crises our country has gone through; the Great Depression, two major World Wars, the rise of globalisation and the digital economy, the financial crisis and most recently the COVID-19 pandemic. Both in our own work and through our work with clients, PwC has taken advantage of each of these pivotal moments in history to ensure there's confidence in the systems that underpin our world, enabling society to have the confidence to build, imagine and grow."
What about the next 100 years?
PwC Belgium is celebrating this success story with an optimistic look at the future: "Staying relevant for over 100 years has required PwC to adapt and rethink our role continuously", says Axel Smits. "The commemoration of this anniversary will not only be an opportunity to look back and celebrate, it's also an opportunity to look ahead and reflect upon PwC's role for the future.
Today we again find ourselves at a crossroads. For decades, globalisation and technology worked as a system to create both economic growth and social progress, but we need a realignment of our economies and political systems so that they again better meet human needs. In the current world of constant change and disruption, trust in institutions, business and technology to effectively provide solutions to new challenges has been steadily declining. In the future, PwC will have an important role to play in helping governments, businesses, and communities reconfigure their systems to become more efficient, more effective, and more able to cope with these challenges. Our role in a future period of continued uncertainty and invisible threats, will be strongly focused on delivering clarity, guidance and rebuilding trust in these systems.
As a people business, with clients' needs changing constantly, we will too continue to adapt. As industries become more complex, our knowledge and expertise is expected to specialise even further. Our evolving role also requires us to continue bringing strategy to life, and making sure that it can be aligned with operational reality: from strategy through execution. In addition, we're focusing on unlocking the data treasure, and making sure we continue to add value with data insights. Last, but certainly not least, is our emphasis on becoming a trusted partner for our clients, not only by keeping up with what's happening, but also leading the change we want to see.
As with many adventures, we can look back at how far we have come, but looking forward there's still a lot to do. We have an opportunity to change our course and achieve a more positive future. How we address change and embrace it to the benefit of us all is up to us. In that sense, our centenary is a special event that reminds us of the range of possibilities that await us.", concludes Axel Smits.
PwC kicks-off its celebrations with a 100 day-long series of activities as the firm highlights key moments in its history, hosts events for employees and clients, and conducts a series of community service projects. Please find more info on our dedicated website.