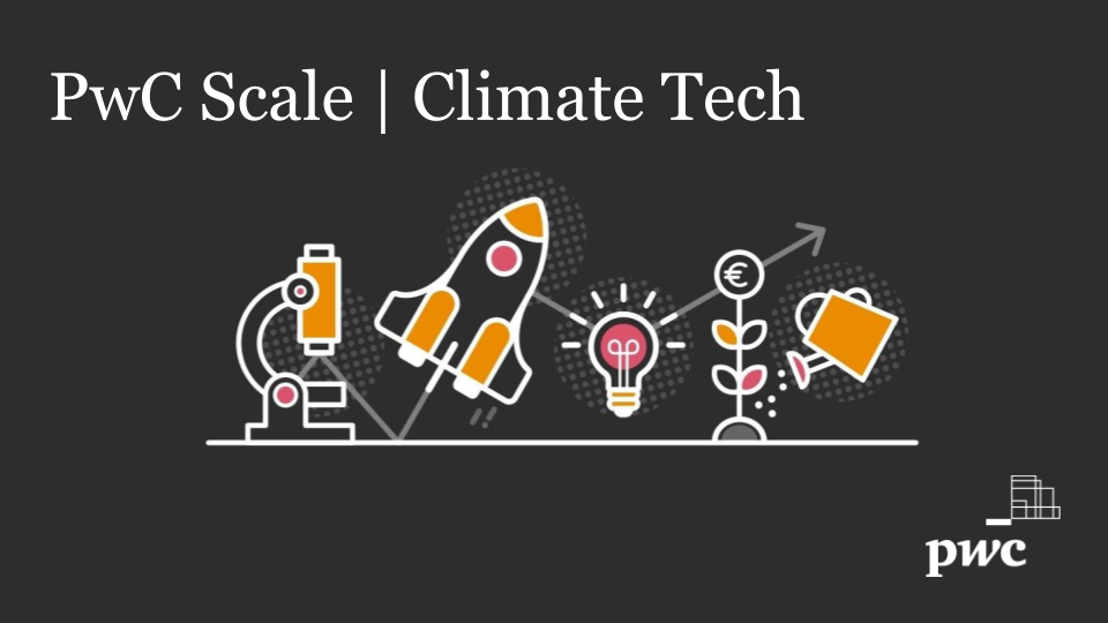 PwC gives extra exposure to Scale Programme finalists at Climate Tech event
PwC Climate Tech Scale Program
Tuesday 14 June 2022 - Today marks the opening of PwC's 2022 Executive event for Climate Tech scale-ups. Over recent years and for the first time, environmental challenges have been dominating the top five spots of the World Economic Forum's Global Risks Report. The road up ahead is an arduous one. PwC's annual Net Zero Economy Index report reveals an annual decarbonization rate of 12.9% is now needed to maintain the 1.5°C goal – that's five times faster than 2020's rate of 2.5 per cent and eight times faster than the global average this century. Climate tech's rapid growth is a critical mechanism to bend down the emissions curve and get us on track to meet this goal. Investment is needed across all areas, but targeting funding to nascent technology areas can drive the breakthrough innovations that are needed for accelerated decarbonization. With its Scale for Climate Tech Programme, PwC means to be a part of this redirection. ​ ​ ​
Investments in Climate Tech
Over 90% of global GDP is covered by net zero targets, and over 2000 companies and financial institutions have committed to so-called science-based targets to reduce emissions, spurred by pressure from investors, customers, consumers and employees alike. There is an increasing recognition that many levers to cut operational emissions present a good return, and that industries will together need to solve some of the technological innovation challenges for harder to abate emissions.
Investment is up in all the technology areas assessed, however it is focused on technology solutions accounting for 20% of emissions reduction potential, indicates the PwC State of Climate Tech 2021 report. Of 15 technology solutions analysed, the top five, representing more than 80% of emissions reduction potential by 2050, received just 25% of the climate tech investment between 2013 and H1 2021.
There is potential to better channel and incentivise investment in technology areas that have the greatest future emissions reduction potential. It is also notable that despite overall growth, the number of early venture capital (VC), seed and Series A investments in climate tech has remained largely stagnant since 2018. While this partly reflects the maturity of climate tech as an asset class, it also highlights the need to fund more startups, with the potential to become climate tech unicorns and gigacorns.
"Nearly all pathways to net zero assume the use of technologies that are still yet to reach scale. It is here that VC and private equity have a special role to play. They can take technology to commercial scale rapidly - and given the findings of our Net Zero Economy Index, this speed is much needed." - Marc Daelman, Partner in sustainability
PwC 2022 Scale for Climate Tech Programme
The Scale for Climate Tech programme helps startups grow and mature their carbon reduction innovations, based on the observation that climate technology funding is not yet going to the sectors with the greatest emissions reduction potential.
"Our Scale Programme gives us a means to actively contribute to transforming the climate tech landscape. We have seen substantial rates of growth in climate tech in the late 2010s, which to a large extent mirror the exciting growth in VC funding of AI start-ups in the early 2010s. Our goal is to rein in an explosion of climate tech into the mainstream investment and corporate landscape of the 2020s, similar to what happened with AI over the past few years." ​ - Griet Helsen, Partner for the Scale programme
This year, the selected Belgian finalist in the programme is TheGreenShot. TheGreenShot is a Green Management Suite that radically changes the paradigm of how businesses become sustainable. Currently available for audiovisual productions and launched in Cannes Film Festival with Annette, the startup aims to ensure the green transition in the film and video sector by providing an accessible solution to help the industry with its climate transition. It offers:
Real-time costs and carbon trackers orient sustainable choices that also save money,

Open interfaces automate reporting and save time by cutting down hours of re-encoding,

Every team member is included in the progressive upskilling of workforces. ​ ​ ​ ​ ​ ​
"For a startup like ours, joining the PwC Scale programme offers a priceless opportunity to increase the exposure of our brand. Even when you have what proves to be a great idea, turning it into a fully-fledged business model that attracts the right investments, can prove to be difficult. PwC's programme supports us every step of the way, offering both knowledge and access to their long-standing network of experts and investors." - Véronique Pevtschin, CEO TheGreenShot
The 2022 finalists Scale Climate Tech Programme finalists are:
PwC Scale Programmes
Counting more than one million in Belgium alone, SME's are the backbone of the economy. PwC is convinced by the potential and purpose of startups who want to scale up into this pool of essential enterprises. To help them, it launched in 2019 the Belgian PwC Scale Programme. The programme is delivered over twelve weeks and supports 10 European startups per programme.
During the programme, the cohort will benefit from interactive masterclasses designed to build long-lasting, fast growth, covering topics such as sales and marketing, digital pricing, fundraising, technology maturity, pitch training, culture and subsidies and grants. This is underpinned by individual support, including coaching, business support and other bespoke advice from experts from across PwC.
Curated events give founders the opportunity to meet and pitch to the relevant PwC teams and an extended network of industry decision makers to drive commercial opportunities. ​ PwC believes collaboration is key to innovation, and means to bring together the best from both the scale-up and (large) corporate worlds.
Scale is organised by PwC UK, Germany, France, Cyprus and Belgium. So far, more than 50 programmes have been organised.
Links voor meer inzichten:
PwC's Scale ClimateTech programme
PwC State of Climate Tech 2021
WEF - Global Risks Report 2021
Media Contact: