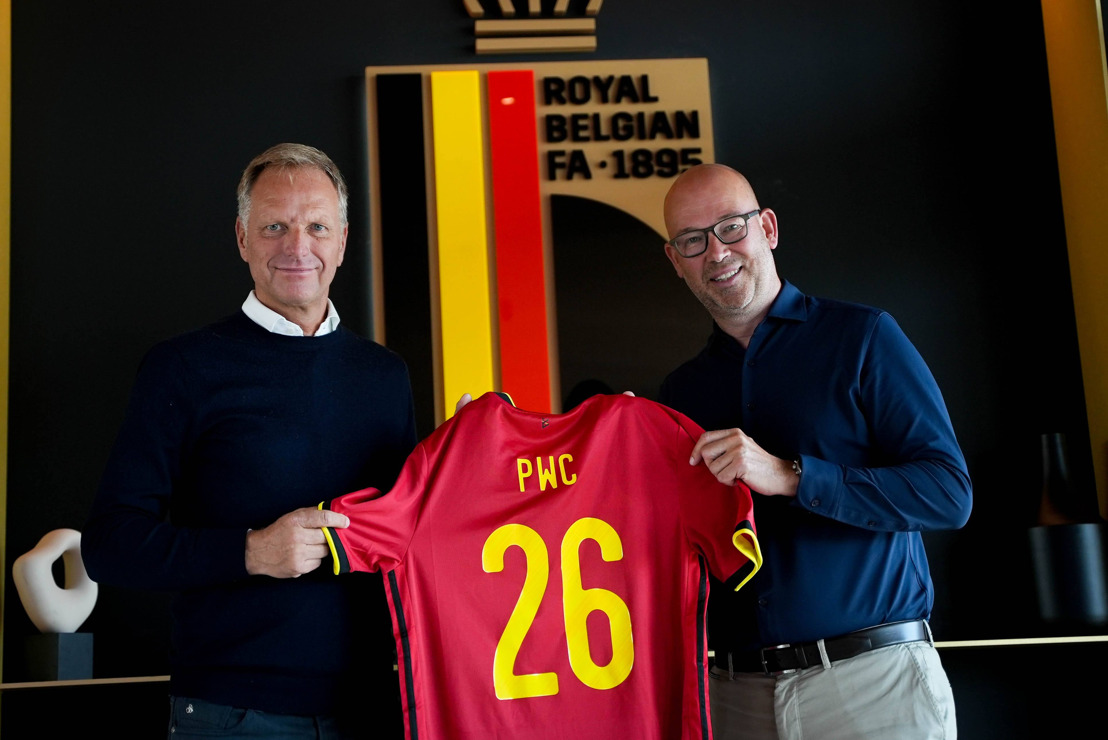 PwC extends partnership with Royal Belgian Football Association for four years
The new cooperation agreement runs until after the 2026 World Cup
Brussels, 18 November 2022 - PwC and the Royal Belgian Football Association (RBFA) have extended their cooperation agreement up to and including the 2026 World Cup. PwC has been a proud sponsor of the RBFA since 2011 and will remain so for another four years under the current agreement.
PwC is extending its partnership agreement with the Royal Belgian Football Association because the firm can identify with the strong values of one of Belgium's most popular sports. Like the RBFA, PwC also promotes inclusion, health and wellbeing, and that from a young age. The unique PwC kids line-up lets children experience what it is like to step onto the pitch as a Belgian Red Devil or Red Flame just before the match.
"The RBFA has strong values that permeate the elite sport it represents: namely, the drive to outdo yourself, the power of unity and the impact of success. These values are clearly reflected by PwC as a company. PwC wants to provide a place where top talent can find a home. As a firm, we want to ensure that our employees can be themselves in everything they undertake. We want to enable them to grow both personally and professionally, day after day," said Axel Smits, CEO PwC Belgium.
"We are very happy and proud to continue working with a loyal partner who came on board when our national teams had not yet reached their current status. We have experienced many great moments since then. Not wanting to just sit on the sidelines, PwC supported the Belgian Football Federation in its digital transformation by helping to develop an app that connects the federation to the wider football community in Belgium in an inspiring way. For us it is also important to work with partners who share our values," said Peter Bossaert, CEO of the RBFA.
About the RBFA
As the country's largest sports federation, with more than half a million members, the Royal Belgian Football Association represents 4,000 football clubs. Together with the regional federations Voetbal Vlaanderen and ACFF (Association des Clubs Francophones de Football), the RBFA organises some 12,000 matches per weekend, including, of course, the matches of our national teams. The Belgian Red Devils and the Red Flames are our ambassadors.
About PwC
At PwC, our purpose is to build trust in society and solve important problems. We're a network of firms in 152 countries with more than 328,000 people who are committed to delivering quality in assurance, advisory and tax services. Find out more and tell us what matters to you by visiting us at www.pwc.com.
PwC refers to the PwC network and/or one or more of its member firms, each of which is a separate legal entity. Please see www.pwc.com/structure for further details.
© 2022 PwC. All rights reserved.
Media Contact: