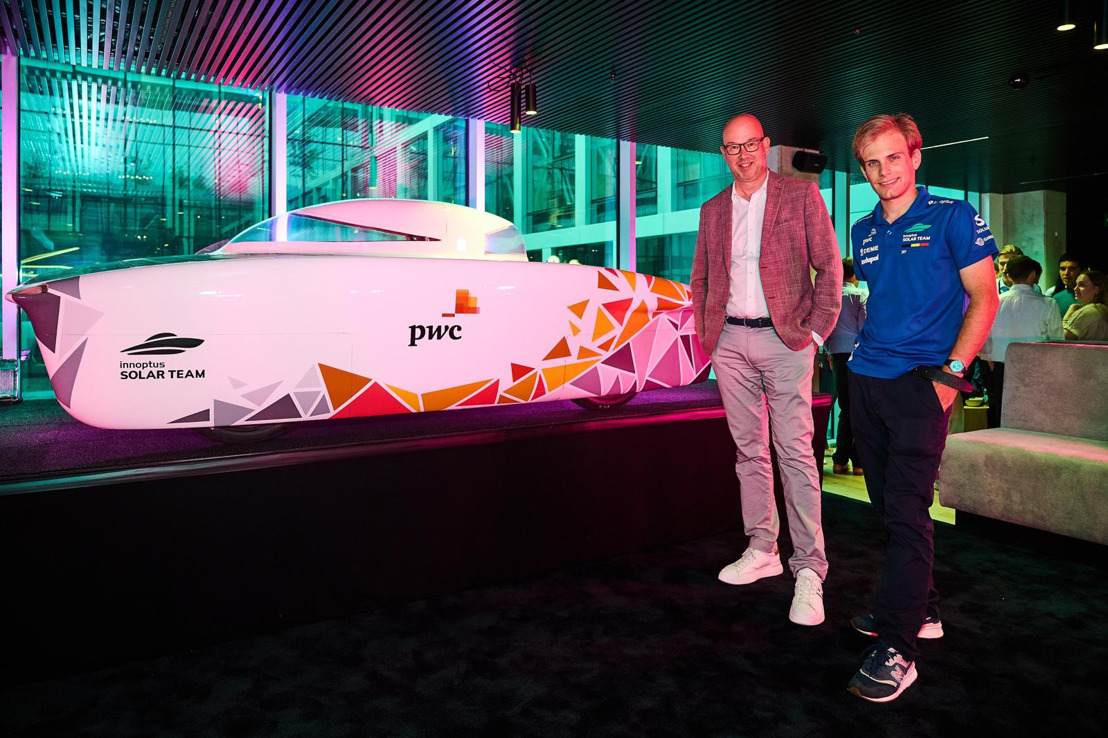 PwC Belgium partners with Innoptus Solar Team 
22 June 2023 – Despite stormy weather, the Innoptus Solar Car 'Punch 2' shines in PwC's brand new headquarters in Diegem. The Leuven-based student team is currently preparing for the World Solar Challenge in Australia, and in the run-up to the competition can now also count on the support of PwC Belgium. With this collaboration, the company aims to support and highlight innovation and talent in Belgium.
Despite stormy weather, the Innoptus Solar Car 'Punch 2' is gleaming on the roof terrace of PwC Belgium's brand-new head office in Diegem. With a fresh coat of paint, the racing car with which the Solar Team won the Carrera Solar Atacama race has been completely enveloped in the design and branding of PwC Belgium. Today at a celebratory launch, PwC has announced that it will be supporting the Innoptus Solar Team for the next two years. For the occasion, 800 members of staff travelled to Diegem to raise a glass to the collaboration and to admire the solar car.
With this collaboration with Innoptus Solar Team, the professional services provider is supporting valuable Belgian talent and crucial innovation in solar energy. The Innoptus Solar Team will be travelling to Australia in October for the world championship, known as the World Solar Challenge. The team won the World Championship in 2019, and in 2020 and 2021 were European champions. The Innoptus Solar Team is already working on a new, tenth Belgian solar car and is kitting this out with all the latest technology and innovations. The students from KU Leuven have to drive from Darwin to Adelaide in Australia entirely using solar power, a journey of 3021 kilometres across the Australian outback. The team will also take part in prestigious competitions in 2024.
Axel Smits, Chairman of PwC Belgium: "The Innoptus Solar Team is a beacon of innovation, talent and climate-conscious entrepreneurship in Belgium. We're incredibly pleased to be able to support this initiative, which aligns perfectly with PwC 's DNA. Our collaboration gives the students the confidence, the space and the opportunities to deploy their talent to the fullest for the world of tomorrow, where solar energy will play an ever-more important role in different sectors and applications. With the growing electrification of vehicles, solar energy will be an area in which we will have to engage both as a country and as a business. We're already looking forward to the first competition in October; the Innoptus Solar Team has just gained a major new supporter!"
Cedric Verlinden, Team Manager of Innoptus Solar Team: "In PwC we've found a strong and valuable partner that enables us to implement the latest technologies in our solar car. Thanks to their expertise and support, we can push the boundaries within our team and strive for an even more efficient solar car in the quest to test the limits of technology and nature. Together with PwC we're also taking the first steps in finding solutions to societal problems that are becoming ever more urgent. We're absolutely delighted with this collaboration and look forward to what we'll be able to achieve with them over the next two years."
Tess Minnens External Communications Manager