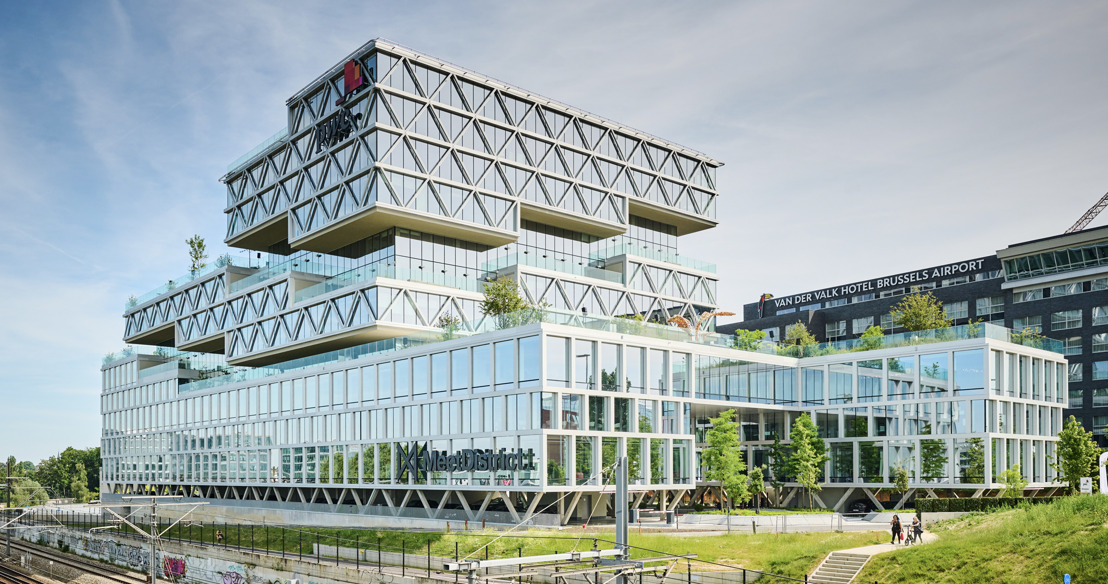 PwC Belgium continues to unlock the potential of its talent, contributing to a more sustainable future
PwC Belgium Annual Results FY22
8 November 2022 - PwC Belgium today reported revenues of 398.1 million euros, for the financial year ending June 30, 2022, up by 3.09% on the previous year. The firm continues to invest in its people, technologies and innovation, as it has for more than 100 years, the source of its year-on-year growth.
Commenting on the results, Axel Smits, Chairman of PwC Belgium said: "For more than a century, we've invested in making sure that we retain a leading position as a professional services firm, dependable employer and stalwart of the community. People choose to join PwC because they want to continue their education and use their skills to make a real difference for clients and society as a whole. We have a forward-thinking, robust training and development programme, supported by advanced technologies, to enable people to enhance their personal market value and assure their relevance going forward. Our clients opt to work with us as they understand the commitment of our people as trusted advisors, by their side as they grow, and still there offering advice and succour in more challenging times. We build relationships for the long term and our results confirm that."
"We believe that the successful organisations of the future will be those that create a virtuous circle between building trust and delivering sustained outcomes, and, fueled by our purpose, we expect to play an active role in helping them achieve that."
"I'm immensely proud of what we've accomplished over the past year, especially in the challenging global context in which we all must operate. The world has been beset by new, largely interconnected developments that strain resources and challenge the resilience of people and societies. No less our own. The commitment and adaptability they've shown in these uncertain times has been truly remarkable."
"A highlight of our financial year was the official opening of our new PwC Belgium headquarters PwC Campus in Brussels. This new home away from home serves as a place where people can come together to collaborate and co-create, where they can reflect on the challenges they, clients and the communities around us face and work in tandem to solve them. Bringing people together not only enables them to consider ideas from a number of diverse perspectives, but plays a social role too in supporting people's mental wellbeing. It helps them feel connected to each other and our firm, something too easily lost when working in the hybrid way our firm affords."
"Our new building's also testament to our immense efforts to increase the sustainability of our operations and underscores our commitment to Belgium as part of a global network. Looking forward we'll entrench that commitment further as we seek to play an even more active role in promoting a more sustainable future for the country."
"Indeed, the coming year will see us seek to continue our proactive role in helping our country face the challenges ahead as it strives to retain its competitive position on the world stage. This is especially true in the areas of economic growth, the increasing need to meet environmental, social and governance (ESG) criteria, digitalisation and upgrading Belgium's education system to ensure it can meet future needs. We firmly believe that as a community of solvers, powered by technology, we have the right combination of capabilities and diverse perspectives to deliver high quality and add real value for clients, stakeholders and society as a whole."
Supporting those in need
PwC believes that people should be given the time and opportunity to make a positive contribution which not only benefits the communities around them, but also offers them meaning in their personal and professional lives. In response to the flooding that impacted people, including some of its own, in the summer of 2021, PwC launched a multi-pronged solidarity campaign, including internal fundraising actions as well as on-the-ground support via clean-up actions that all together saw 1,200 PwC people helping local communities renovate houses, clear away rubble and more in impacted areas.
Prioritising an inclusive and diverse workforce
Because PwC believes that only by having a truly diverse workforce and a blend of opinions can it make valuable, future-proof decisions, its dignity and equality policy focuses on establishing an inclusive workforce where differences are valued. This policy is supported by a firmwide inclusion and diversity (I&D) policy programme, with clear targets. In FY22, PwC's male/female balance for staff was 54.18%/45.31% respectively (0.5% was undeclared). The firm has in place a community of more than 90 I&D Ambassadors, representing all levels, gender, ages and business areas, who come together to ​ focus on priority topics of inclusive and diverse recruitment, nationalities, ethnicities and race, religion and culture, (dis)ability, LGBTQIA+, languages, different career tracks, wellbeing and mental health, inclusive leadership, representativeness of women and women over 45. The firm's partnership with MolenGeek, a tech ecosystem that seeks to make the technology sector accessible to everyone, is helping PwC embrace a new vision and laying the foundations to prepare its clients and its own people for the future by getting a mutual understanding of the skills firms like PwC need and adapt training to fit.
Getting ever greener
ESG topics remain key for PwC Belgium, in terms of activities and transparent reporting on performance. Contributing to enabling the firm to achieve its global commitment to net zero operations by 2030 was the introduction in FY22 of a greener mobility strategy. This included the introduction of 540 BMW X1 Plug-in Hybrid cars to its fleet, resulting in a substantial reduction in carbon emissions. The firm already carbon offsets 100% of fleet emissions and 100% of air travel emissions. The location of the new PwC Campus in Brussels was strategically chosen to encourage people to use alternative means of transport, an ambition boosted by the offer of a 'transport credit card' that enables people to switch between different forms of transport to reduce their need for car ownership. The building itself has been designed to be climate neutral and has attained an EPB value of 49. PwC's bespoke ESG Academy supports the upskilling of the firm's entire population on ESG topics to make sure ESG is integrated into existing offerings as well as future concepts to support clients and communities.
Increasing transparency
FY22 is the second consecutive year that PwC Belgium will produce an annual report in line with the framework established by the International Integrated Reporting Council (IIRC) and World Economic Forum (WEF) metrics. This edition will also follow the newly updated 2021 GRI Standards of the GRI guidelines.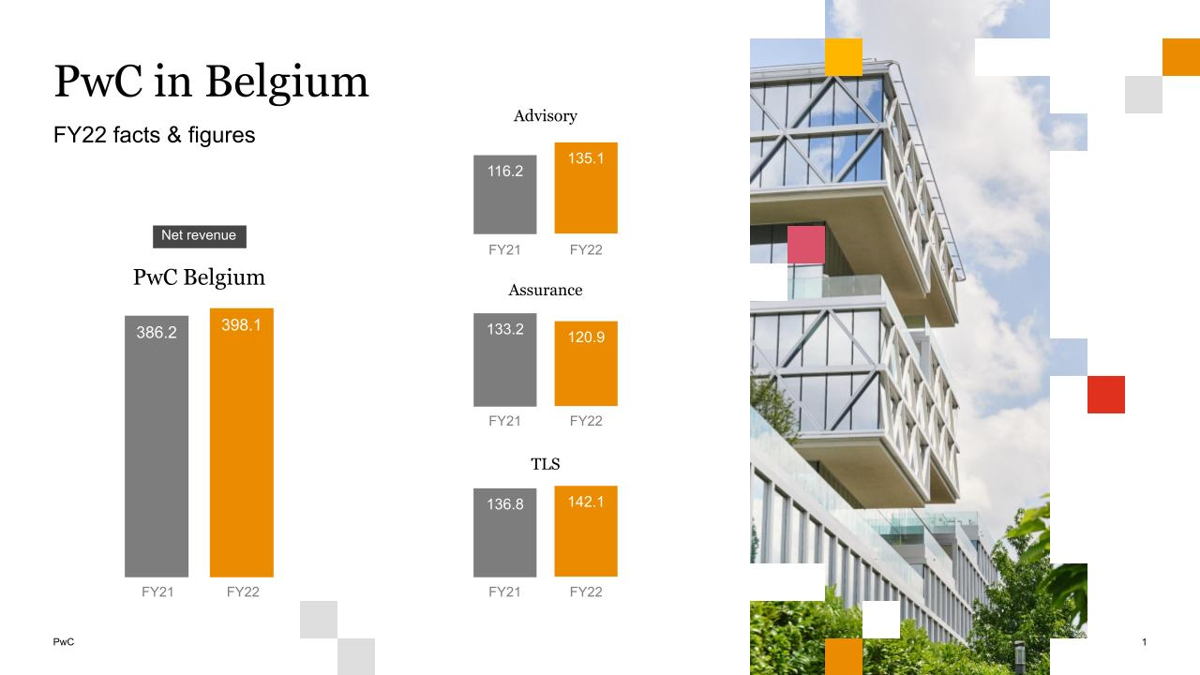 Financial highlights
In an already mature market, PwC Belgium's Tax and Legal Service (TLS) practice achieved a 3.94% increase in net revenues to 142.1 million euros in FY22, a year that saw the global divestiture of the firm's Global Mobility Tax and Immigration Services business. With greater societal and regulatory focus on tax transparency, the unit's seeing growing interest in its transparency and compliance services, in particular when it comes to helping clients operationalise compliance requirements and manage data effectively. As such, TLS continues to play an active role in repositioning the tax profession as one that makes a valuable contribution to societal debate on fairness and transparency.
The firm's Assurance practice maintained its leading position in the Belgian market. In FY22, it achieved net revenues of 120.9 million euros. The unit continued its significant investment in its Broader Assurance Service (BAS) offerings, which are being increasingly called on by clients as environmental, social and governance (ESG) topics move up the agenda and they move more toward integrated reporting of their performance to include their impact on people, society and the environment, alongside financials. ​ Additionally, in FY22, capital market transactions contributed to the results of the Assurance practice together with the impact of new accounting standards and other regulatory developments in certain industries.
Combining the company's Consulting and Deals units, PwC Belgium's Advisory practice again grew substantially in terms of net revenues to 135.1 million euros, a 16.29% increase on FY21. This growth was driven by strong demand for technology-enabled business transformation (both enterprise-wide and within specific business functions, e.g. finance, operations/supply chain, customer and human resources) including many clients migrating to cloud environments. The Deals market continued to be very active in FY22, supported by an abundance of liquidity in the economy and our clients seeing mergers and acquisitions (M&As) as a strategic priority and enabler to create and preserve value. Finally, we saw strong growth in our managed services business whereby clients rely upon PwC to execute, optimise and transform specific business functions and processes on their behalf. ​ ​