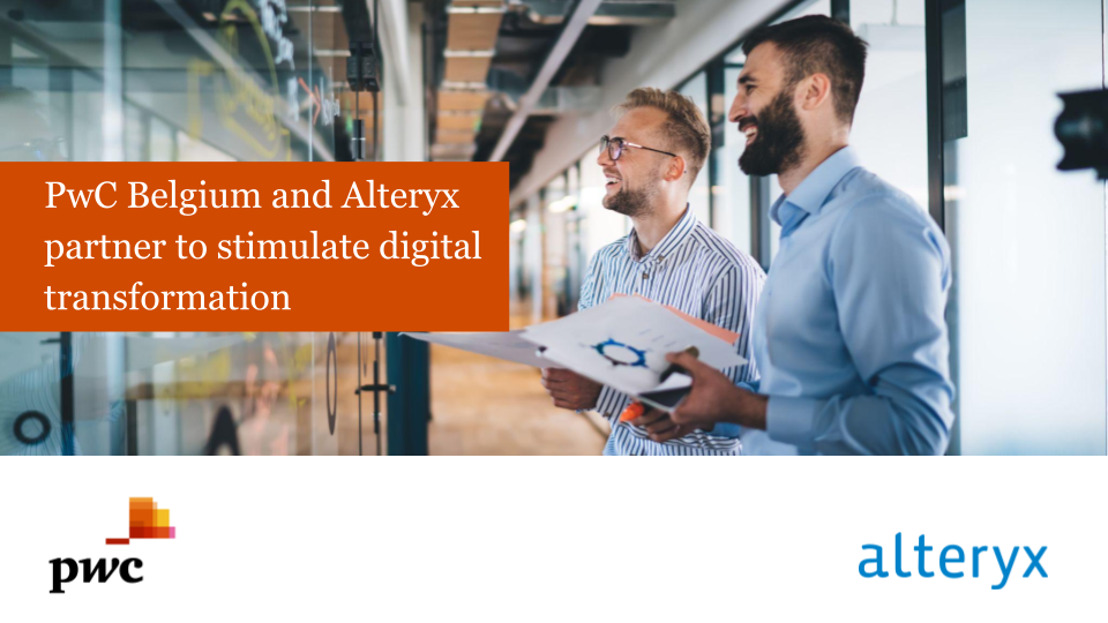 PwC Belgium and Alteryx partner to stimulate digital transformation
Partnership will enable adoption of data automation and analytics at all levels of organisations
Brussels, 18 April 2023 - As of this year, PwC Belgium and Alteryx will be working closely together, leveraging data analytics solutions to power the digital transformation of their clients. The partnership combines the suite of self-service, drag-and-drop data science process automation blocks in the Alteryx Analytics Automation Platform with PwC's experience in digital transformation and industry expertise. Both partners aim to help businesses roll out analytics and automate the creation of data-driven insights to support decision making at all levels throughout organisations.
The partnership between Alteryx and PwC Belgium is an extension of the existing global partnership with the PwC network. It enables PwC to offer clients a comprehensive set of services and products designed to put the benefits of data science and analytics within reach of everyone running projects in the business, and to embed the solutions needed to continue to generate those insights going forward.
Pieter Jonckheere, Director at PwC Belgium and driver of the Alteryx alliance across all the audit, tax and consulting activities of the firm, states: "We see businesses everywhere looking to transform the way they work and increasing demand for data-driven insights and highly automated results at scale. Within PwC Belgium, the deployment of the Alteryx platform has been part of our own transformation. Thanks to this and our broader technology knowledge, we can support clients in developing and implementing their own digital transformation strategy and reap the rewards of end-to-end analytics with accessible solutions like Alteryx."
PwC Belgium will use the Alteryx Analytics Automation Platform together with its existing technology alliances to accelerate and facilitate the digital transformation of its clients and help them develop data-driven insights. The ease of use of the Alteryx platform enables organisations to democratise data and analytics across the business so users of all skill levels can build their own automated, and repeatable analytic workflows alongside more advanced AI/ML based modelling for delivering business transformational outcomes. The many proficient Alteryx users already within PwC Belgium will contribute enormously to the positive impact the firm will have on clients' transformation initiatives.
"Surrounded by uncertainty, business leaders are under increased pressure. Faced with the critical need to drive efficiencies to ensure the company does not fall behind and deliver long-term success, data-driven insights are crucial to driving timely answers and decisions", explains Barb Huelskamp, Senior Vice President of Global Partners and Alliances at Alteryx. "Data-driven decision intelligence at the scale and agility needed to accelerate transformation can only happen when people at every skill level have access to and use the data to easily automate the analysis and democratise the insights. Working with PwC Belgium as part of our global partner ecosystem is critical to supporting businesses as they focus on leveraging accessible automated analytics as the foundation of transformation."
​
Erik Oosthuizen External Communications Manager