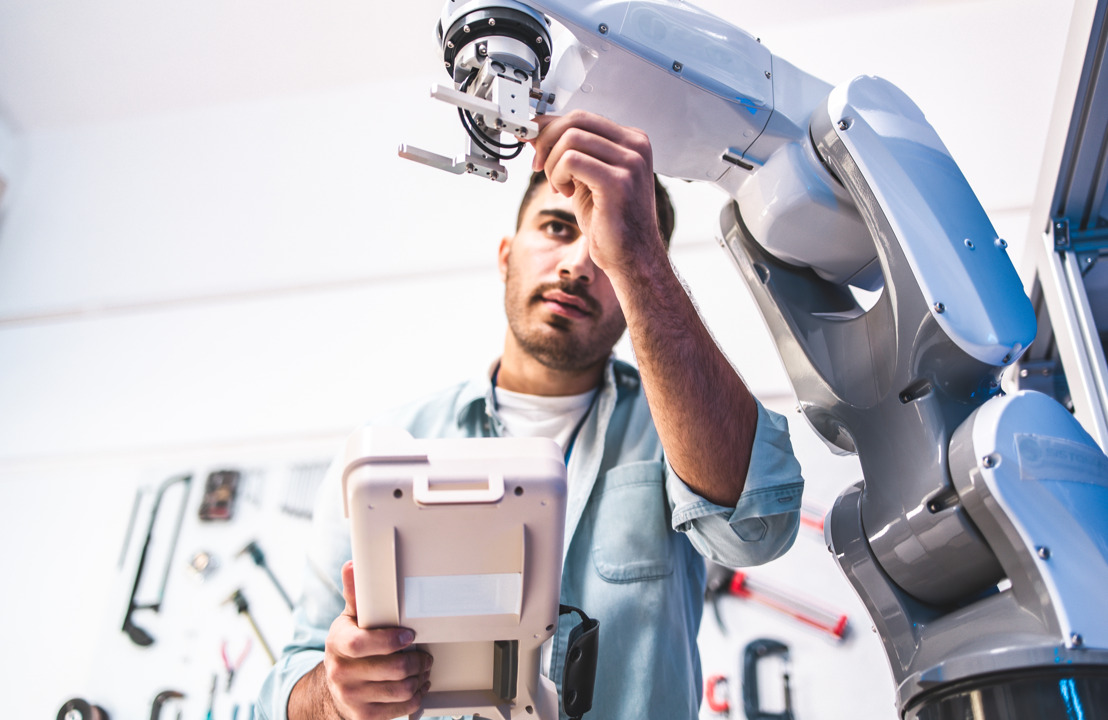 Industrial robotisation: a major opportunity and challenge for Belgian manufacturing companies
Brussels, 9 March 2023 ​ – In recent years, Belgian companies have invested heavily in automation and digitisation of their production processes. More than 10,300 robots have been installed in Belgium, according to figures from the IFR (International Federation of Robotics), making our country 15th in 2022 with a robot density of 198, compared to a worldwide average of 141. "This is largely due to the presence of the automotive industry and its suppliers in Belgium," explains Ben Van Roose, Manager Manufacturing at Agoria. "In reality, the potential for the application of robotisation remains significant in the manufacturing industry, especially in SMEs but also in other key economic sectors such as the food and chemical industries, and for applications that were previously unthinkable to do with a robot."
Robots play a crucial role in automation, innovation, growth and improving working conditions.

40% of SMEs still do not use robotisation.

Government support exists, but initiatives need to be mor accessible.
4 in 10 SMEs do not use or have basic knowledge of robotisation
This is one of the main conclusions of the survey "Robotisation in Belgium" conducted by the federation of technology companies Agoria and consultant PwC Belgium among 120 manufacturing companies and a number of suppliers and universities. It shows that 7 out of 10 manufacturing companies are already using or experimenting with robotisation or related applications in their production process. However, the survey points to a big difference in the application of this technology between large companies and SMEs: almost 40% of the latter do not use robotisation in their production process or have no basic experience with it.
Insufficient training and lack of internal knowledge are cited by the companies surveyed as the main obstacles to robotisation adoption. "To correctly assess the potential of robotisation within the company and accelerate its implementation, reskilling and upskilling are essential. The introduction of robotisation is also hampered by the shortage of STEM profiles. The initiatives taken at regional level in recent years are going in the right direction, but we need to go further and see how we can set up and realise an ambitious strategy at national level with the various players," Ben Van Roose said.
The survey also shows that there is still some distrust of robotisation, but this is decreasing. For example, 45% of the companies surveyed say their employees have a positive assessment of robotisation, and 75% of employees think the impact of robotisation on employment is non-existent or positive.
​
A complex but crucial journey
​6 out of 10 SMEs have already started adopting robotisation but there is certainly still significant catching up to do to ensure their growth and increase efficiency in order to compete in an international marketplace. According to the research by Agoria and PwC, the use of robots is an important part of automation and therefore plays a crucial role, especially in the ability of companies to innovate and grow while improving the working conditions for their employees.
However, the multidisciplinary and complex nature of automation and robotisation poses a major challenge for companies. That is why Agoria and PwC recommend following a seven-step plan and stress the need to involve all players. "The most important thing is to take the right steps in the right order and be guided. ​ Fortunately, in Belgium we can count on an extensive and professional ecosystem of robot suppliers, peripheral suppliers and robot application integrators who can help integrate and implement robotisation within companies," adds Jochen Vincke, Partner, Sustainable Manufacturing at PwC.
State aid needs to adapted to the reality of businesses
Robotisation is a first step towards tomorrow's future-proof business models. The regions have developed many initiatives in recent years to inspire companies and promote the application of automation technologies within production processes. The survey results highlight the importance of the latter, but also the need to continue investing in further automation.
The government is aware of the importance of the investments to be made by business ​ and has also created initiatives to support them. The next step is to make them more accessible and even more responsive to the day-to-day reality of enterprises. "Given the challenge of maintaining the competitiveness of our Belgian industry, it is essential to develop a long-term vision and take into account not only short-term job creation, but also the future prospects that robotisation offers our companies. Without this, we will not be able to promote the development of a sustainable Belgian industry," concludes Jochen Vincke.
About Agoria
Agoria, the federation of the technology industry, unites more than 2,000 technology companies and all those inspired by technology. With more than 324,000 employees, it is the largest federation within the FEB. More information at https://agoria.be