Family businesses are trusted and resilient;additional focus on digitisation and ESG welcome
PwC Global Family Business Survey
Even after the impact of COVID-19, 25% of European family businesses still expect sales to grow (compared to 55% pre-COVID)
Less than half (47%) of European family businesses say sustainability and/or the local community is a key priority over the next two years
57% of family businesses in Europe say their digital capabilities are not strong
Thursday 25 February 2021 - In a year in which business has had to transform the way it meets the needs of society and the environment, family owned businesses risk falling behind, according to PwC's 10thGlobal Family Business Survey of 2,801 family business owners. The findings show that it's no longer enough to rely on values and legacy to propel the business forward. Tomorrow's family business requires a new approach for lasting success; one based on accelerated digital transformation, prioritisation of sustainability goals and professional family governance.
Family owned businesses are highly likely to feel they have a responsibility to society. At global level over 80% engage in proactive social responsibility activity, and 71% sought to retain as many staff as possible during the pandemic. However, while more than half (56%) of European respondents say they want to lead the way on sustainability, only 47% list it as a key priority in the coming two years. This doesn't seem to be the result of economic pessimism - less than half of European respondents (47%) expect sales to fall despite the pandemic and 25% expect sales growth. At a global level, respondents felt optimistic about their business resilience, with 64% expecting to grow in 2021 and 86% expecting growth in 2022.
Diversification and improving digital capabilities are top priorities
This reluctance to embrace sustainability is a rare example of family businesses being hindered by their independence. Listed companies feel increasing pressure around sustainability from customers, lenders, shareholders and employees. In European markets that are leading the way on embedding ESG, PwC analysis indicates that ESG assets will make up between 41% and 57% of total mutual fund assets by 2025, and more than 75% of European institutional investors surveyed this year by PwC said they plan to stop buying European non-ESG products within the next two years. Family businesses are somewhat insulated from the investor pressure that is currently pushing public companies to put ESG at the heart of their long term plans for commercial success.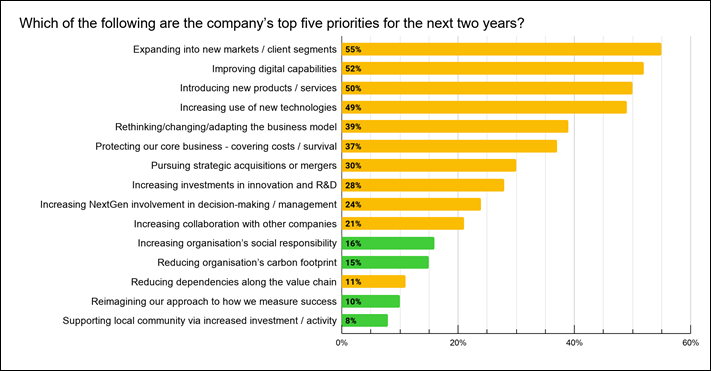 "It's clear that family businesses have a strong commitment to a wider social purpose. But there's growing pressure from all stakeholders to demonstrate a meaningful impact on sustainability and wider ESG issues," states Griet Helsen, Partner at PwC Belgium. "This survey indicates that many family businesses have a more traditional approach to social contribution. However, they need to adapt to changing expectations and, by failing to do so, are creating a potential business risk. This isn't just about stating a commitment to doing good, but setting up meaningful targets and reporting that demonstrate a clear sense of their values and purpose when it comes to helping economies and societies rebuild better."
The survey suggests family businesses have weathered the pandemic relatively well. However, even though 80% of family businesses at global level adapted to the challenges of the COVID-19 pandemic by enabling home working for employees, there are also concerns about their overall strength when it comes to digital transformation. In Europe 57% of respondents said their digital capabilities were not strong, and almost a quarter (23%) said it was not a priority for them.
"It is a concern that family businesses are lagging behind the curve. There's clear evidence that having strong digital capabilities pays off," states Philippe Vyncke, Partner at PwC Belgium. "Digitisation gives access to reliable and timely data to feed into decision making. This translates into increased agility and better performance, and more transparent information sharing among family members. Strong digital capabilities also go hand in hand with greater enthusiasm for sustainability: 51% of those family businesses at global level have a developed and communicated sustainability strategy that informs all their decisions, compared to 29% otherwise."

The governance gap
When times are tough, the strong fundamentals that are the hallmark of family businesses - commitment to values, long-term thinking, sensible leverage - are what recoveries are based on. It happened in 2009 after the financial crisis when family businesses rebounded to build back opportunities in a shattered world economy. And it will happen again in the post–COVID-19 recovery; family businesses are more trusted than other institutions and leaders. In Edelman's 2020 Trust Barometer 67% of respondents said they trusted family owned businesses vs. 58% for listed companies and 52% for state owned.
While family businesses report good levels of trust, transparency and communication, the survey highlights the benefits of a professional governance structure. While 79% globally say they have some form of governance procedure or policy in place, the figures fall dramatically when it comes to important areas: in Europe just over one third state they have a family constitution or protocol, and less than half (47%) have a shareholders' agreement or testament (43%) in place.
"Family harmony should never be taken for granted – it's something that must be worked on and planned for, with the same focus and professionalism that's applied to business strategy and operational decisions," comments Griet Helsen, Partner at PwC Belgium. "According to the Family Business Network, in Belgium family businesses are responsible for 45% of total employment and 33% of GDP. It's thus vitally important that they ensure they have formal processes in place to safeguard stability and continuity in the long run. Professionalising governance in family businesses is complex, but without it there can be conflicts and rivalries that can demotivate management, distract from the right priorities or prevent you from recruiting the right talent. If some shareholders wish to exit, in a worst case scenario you may even risk the family losing control of the business."
About PwC's Global Family Business Survey
The Family Business Survey is a global market survey of owners and executives. The turnover of participating companies ranges from under USD 5 million to over USD 6 billion. The goal of the survey is to get an understanding of what family businesses think about the key issues of the day. The report is based on 2,801 interviews conducted with family business leaders and decision-makers across 87 territories between 05 October 2020 and 11 December 2020. There were 1,061 respondents in Europe.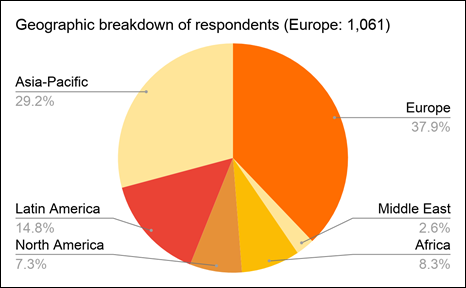 Read PwC's Global Family Business Survey for more insights.
Contact
Erik Oosthuizen
[email protected]
​0474 56 42 76