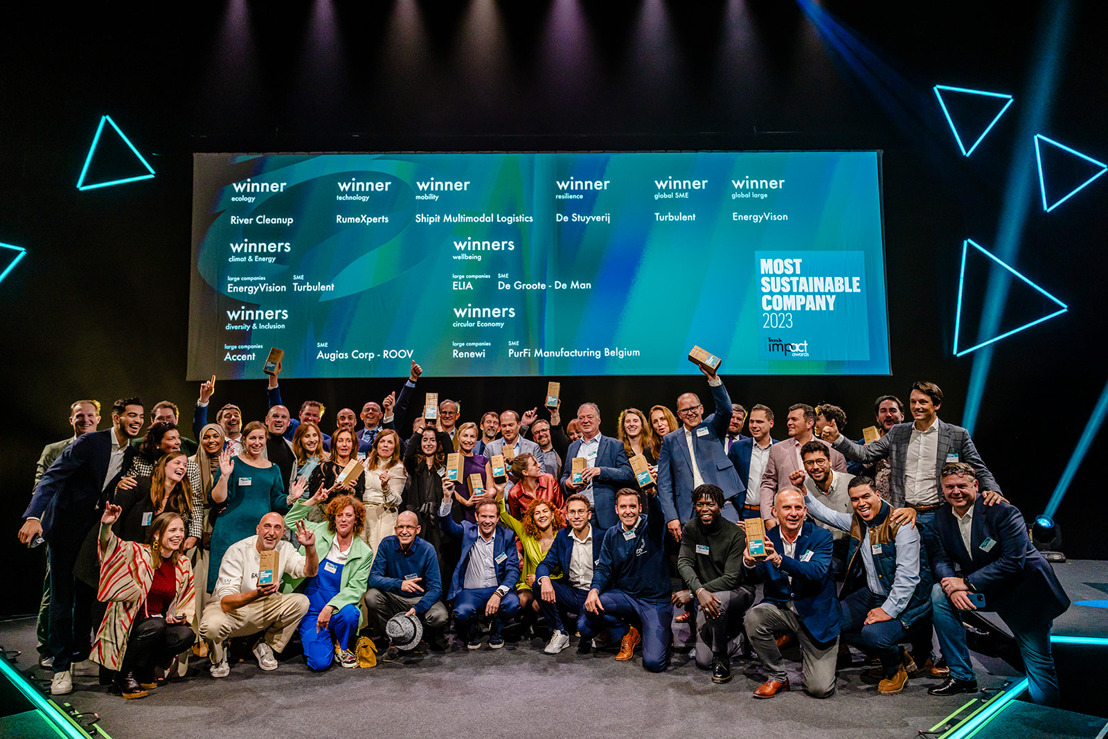 EnergyVision and Turbulent, winners of the Trends Global Impact Awards!
Together with PwC Belgium and Antwerp Management School, Trends presents the second Trends Impact Awards, Belgium's most prestigious awards for companies that create sustainable value for our society. 
Wednesday 25 October 2023, Brussels Expo – Tonight, Trends – together with PwC Belgium and Antwerp Management School (AMS) – presented the companies EnergyVision (specialised in the installation of solar panels that deliver sustainable energy solutions to individual homes and companies) and Turbulent (which develops resilient and cost-efficient hydroelectric turbines designed to power companies and communities and to inject energy into the electricity grid) with a Trends Global Impact Award for their pioneering role in sustainability. The other ten winners are River Clean Up, Renewi, PurFi Manufacturing, De Stuyverij, RumeXperts, De Groote - De Man, Elia, Augias Corp - Roov, Accent Group, and Shipit Multimodal Logistics.
A great number of Belgian companies are pioneers in one or more facets of sustainability, but due to the broad scope of the ESG (environment, social and governance) and the SDG objectives (Sustainable Development Goals), a company cannot excel in every aspect. The participating companies were first divided into eight categories (Ecology, Circular Economy, Resilience, Technology, Mobility, Climate & Energy, Well-being and Diversity & Inclusion) based on a methodology developed by Prof. Dr Wayne Visser from AMS. Not just large companies were eligible for the Trends Impact Awards. Some categories also have a dedicated SME award.
A Trends Global Impact Award was then presented to the project that had the biggest impact across all categories. Over 100 candidates were considered for this prestigious prize.
The Trends Impact Awards recognise Belgian companies that have stood out over the past year for their sustainability strategy projects with a positive impact on the environment. This year marks the second edition of the Trends Impact Awards. The awards ceremony and gala dinner brought together 400 guests from the world of sustainability and entrepreneurship.
The event recognises companies that have made a commitment to managing their activities in a more sustainable way, in addition to traditional objectives like climate neutrality or energy efficiency. With the Trends Impact Awards, Trends and its partners aim to highlight companies that are not only contributing to a more sustainable society but also playing a leading role in the energy transition.
Over 200 companies were nominated. The jury, made up of Trends journalists, experts from AMS and PwC Belgium, and sustainable development professionals from renowned Belgian companies considered each of the nominees in depth and assigned them to one of the categories. Companies that have had a social impact through large-scale or far-reaching initiatives, or have distinguished themselves in an unprecedented way in their category, went on to win an award:
Ecology: River Cleanup vzw, making rivers plastic-free

Circular economy (large companies): Renewi NV, race to better recycling

Circular economy (SME): PurFi Manufacturing Belgium, recycling and rejuvenating textile fibers

Resilience: De Stuyverij vzw, entrepreneurship as a lever for vulnerable people

Technology: RumeXperts, software for sustainable milk production

Well-being (SME): De Groote - De Man, the employees of the law firm determine their own salary and holidays

Well-being (large companies): ELIA, excellent employer

Diversity and Inclusion (SME): Augias Corp – ROOV, helping people with debts keep an overview

Diversity and Inclusion (large companies): Accent Group, recruitment without prejudices

Mobility: Shipit Multimodal Logistics, a modal shift by shifting construction transport from the road to the water

Climate and Energy (SME): Turbulent, solar panels without installation and maintenance costs

Climate and Energy (large companies): EnergyVision, cost-effective hydroelectric power stations for remote communities
EnergyVision has also won the Trends Global Impact Award among major companies.
EnergyVision is a leading Belgian installer of solar panels. The company supplies more than 13,000 customers with energy and continues to grow. It installs solar panels for free and sells electricity at a competitive rate. It also stands out for its commitment to underprivileged families, by reducing energy costs for them and by training refugees as installers. These initiatives have a positive social impact.
Turbulent receives the Trends Global Impact Award among SMEs.
Imagine small, cost-effective hydroelectric power plants that can be installed in any river or waterway with a gentle slope. Without dams or major construction projects, Turbulent delivers reliable, affordable energy to the world's most remote communities. The company from Leuven uses hydroelectric technology for this, which is environmentally friendly and suitable for the smallest networks.
Stijn Fockedey, chief editor of Trends: "Sustainability is hip and there are plenty of initiatives emerging, but we want the Trends Impact Awards to be the most relevant, objective and credible competition. That's why we work together with an academic partner, to write the methodological framework, and a consultant, for their expertise in carrying out a reliable assessment of the projects submitted. With impressive results: nearly 200 candidates, 140 companies preselected, 100 nominees who had to pass a strict selection process involving an oral defence in front of a jury, and ultimately 14 winners. All of them are making a difference for the environment or society. All of them are working on projects that make us smile."
Amid Faljaoui, chief editor of Trends-Tendances: "In a world of economic news, sustainable companies need to be cherished. They are continually working on social issues and our planet, and in the long term this is a winning formula. So for a business magazine like Trends, putting these companies in the spotlight isn't over the top. It's an absolute necessity. These companies aren't just about doing business, they're also about innovation, ingenuity and most importantly: they're looking a long way into the future. In this constantly changing world, highlighting the professionals in these sustainable companies is like providing a GPS for the path to our future economy."
Jochen Vincke, Partner at PwC Belgium: "The Trends Impact Awards are an opportunity to judge the value of sustainable and impactful ideas. This can inspire others to follow suit and start a major movement. All this contributes to a more sustainable economy, a more resilient society and a guarantee of our social prosperity. PwC took the initiative for the Impact Awards, driven by the increasing need to remain socially relevant. In fact, for our employees this social impact has become an essential driver to generate impact for our community. That's why it was important for us to take part in this project and support other companies in their sustainable transition."
Wayne Visser, Professor of Sustainable Transition at Antwerp Management School: "The model I developed is an example of backcasting, the opposite of forecasting. With backcasting you pick a point in the future, for example 2050, and try to picture in as much detail as possible what the ideal world would look like. You can map the United Nations' 17 SDGs to the 8 transitions in my model. However, the SDGs are a bit odd. When 190 countries need to agree on something, you get a real mixed bag. Some SDGs are problems, others are solutions, but among the SDGs you'll find the trio of environment, society and economy, just like in my model."
More information about the organisers: