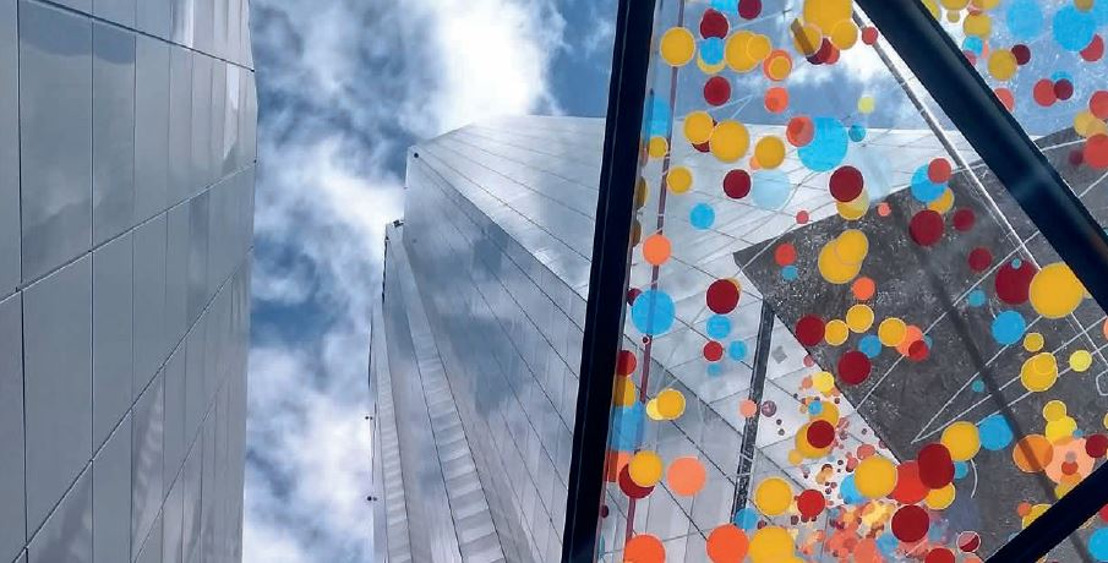 Emerging Trends in Real Estate: Urban Land Institute and PwC find post-pandemic leap in confidence while coming to terms with the longer-term COVID-19 impact and structural changes
Business confidence in real estate sector hits highest level since 2014.

Profound changes to the business of real estate are foreseen following changing consumer demands, digitalisation and an ever-stronger ESG agenda, although the real impact is yet to be seen.

London tops overall city rankings for 2022, leading over Berlin and Paris

Logistics and residential top sector prospects rankings alongside alternative asset types – new energy infrastructure, life sciences and data centres

Need for organisational transformation embracing technology, skills and ESG is a key priority according to 68% of real estate leaders.
Emerging Trends in Real Estate® Europe 2022, the 19th annual survey by the Urban Land Institute (ULI) and PwC of European real estate sector leaders' expectations for the year ahead, finds a significant leap in confidence going into next year, although the longer-term outlook is characterised by uncertainty with many still coming to terms with the radical changes to the business of real estate brought about or accelerated by COVID-19.
The report, based on the views of 844 property professionals, records the highest levels of business confidence since 2014 and a doubling in positive outlooks since the same time last year, reflecting a broad sense of relief and short-term optimism that the industry has remained resilient during the pandemic and that real estate remains a favoured asset class. Around half of respondents think that business confidence (52%), profitability (49%) and headcounts (53%) will rise in 2022.
For many, this means the performance of real estate looks relatively strong for 2022 with higher forecast returns than a year ago. This level of confidence is further supported by continuing strong investor demand with both the availability of debt and equity expected to be plentiful, albeit with significant differences between sectors, depending on which performed well during the pandemic and those that suffered significantly.
However, there is also a sense that the short-term relief around getting back to a more normal business environment is masking uncertainty and volatility in the mid-term. ULI Europe CEO Lisette van Doorn comments: "European real estate is coming to learn that the exit from the pandemic is not a straight line. There is pent-up demand from which to benefit but it also needs to get to grips with what 'restarting the economy' really means. The current uncertainties are reflected into quite strong sentiment swings while, at the same time, the industry is struggling to interpret the potential impact issues like supply chain disruptions, surging energy costs and labour shortages will have on real estate and how long these issues might last."
In the short-term, the greatest wider business uncertainties relate to cybersecurity at 67% of respondents and a mix of inflation (59%) and interest rates (55%). The most concerning real estate business issues for 2022 are construction costs and resource availability (88%), availability of suitable land and assets (66%), sustainability and decarbonisation requirements (61%). Many of these concerns will impact construction prices and delivery schedules, just at a time when the industry wants to resume delayed developments or advance repurposing initiatives.
This uncertainty also grows for the longer-term with the knowledge that the industry needs to restructure for resilience on many fronts including adopting an ever-stronger ESG agenda, digitalisation, as well as changes to business and financial models. "Looking further ahead to the next three to five years, uncertainty dominates, not only because of massive structural change accelerated by COVID-19, but also concerns backdrop for social and political risks will remain high over the longer term," says van Doorn.
Against this mix of uncertainty and relief, 59% of survey participants expect to be net buyers of real estate assets. This is up on last year (55%), partly reflecting the confidence factor and partly the inherent attraction of real estate versus other asset classes.
Angus Johnston, UK and EMEA Real Estate Leader at PwC, said:
"Having hopefully seen the worst of the pandemic, real estate businesses are looking forward with confidence. A major part of the recovery and future shape of the industry in Europe will be driven by the response to Net Zero and the ESG agenda more broadly. The challenges here are every bit as large as those associated with finding the post pandemic new normal. There is a great opportunity here for the industry to play a major role in finding new sustainable ways for how we live and work."
European cities overall prospects 2022 - top ten
London comes top overall for investment and development prospects in European city rankings, ahead of second place Berlin and reversing last year's top two positions. Paris remains in third place.
The UK capital benefits from the depth of its market and undoubted gateway status, but this year a widely perceived yield gap of around 1% between London offices and their continental equivalent gives it an advantage in value for money. Individual comments suggest confidence in London's ability to reinvent itself as a base for technology and life sciences.
Berlin, in second place, shares the robust economy and transparency of the other German cities in the top 10, while having its own distinct appeal, particularly for international investors. Like last year, Paris ranks third, reflecting its gateway status.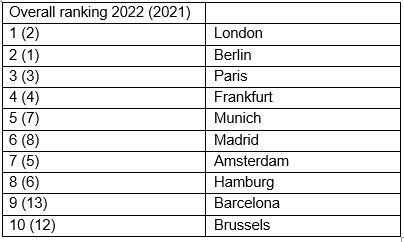 Sector prospects in 2022 - top ten
The pandemic has reinforced the trend of investors targeting sectors that profit from megatrends, operate anti-cyclically, and continue to generate resilient income. From a traditional sector perspective, this favours logistics and most forms of housing, although investors are aware that housing remains politically sensitive.
However, it is the niche sectors that have dominated the top end of the list even though they are currently a small part of the market. New energy infrastructure topped the sector rankings followed by life sciences with data centres also garnering enthusiasm among investors.
At the same time, there is no consensus yet on the future of offices, with some respondents enthusiastic about the future of flexible, prime assets, while others envisage an inevitable contraction in overall demand. There will be a lasting increase in time worked remotely, according to 85%, while 82% see a continuing role for HQ buildings in conveying culture and attracting talent and 74% see a growing valuation gap between primary and secondary offices.
The sector rankings clearly signal a direction of travel as part of a longer-term and fundamental shift into more operational real estate that the industry is navigating while making the most of the immediate economic upturn. At the same time, it demonstrates a more granular approach to real estate investing, drilling down into the specifics of subsectors when making asset allocation decisions.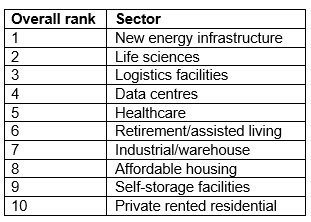 Organisational change key priority for majority industry leaders
In recent years, Emerging Trends Europe has identified the growing importance of operational assets but also the need for far greater emphasis on customer service, reputation, technology, an increasingly pressing environmental, social and governance (ESG) agenda and diversity in the workplace.
With all these changes in flux, this year's survey showed that organisational transformation is a key five-year priority for 68% of respondents, driven by evolving relationships between landlords and tenants in every sector. The strongest influences are real estate as a service and changing customer demands, both cited by 89% of respondents. The third-ranked influence with 81% is the ESG agenda.
However, despite a need to attract new skills to the industry, only 49% of respondents see the 'war for talent' as a driver, but expansion of the skills base is seen as fundamental to a meaningful and lasting organisational change by 73%. Interviewees said that talent is needed from outside the real estate industry to integrate technology, ESG and service culture.
Technology itself is seen as critical to transformation by an even higher 92%. Greater diversity should be a natural consequence of importing new skills, with 70% regarding it as important in transformation.
The report questions the industry's ability to adapt at the speed and intensity required, identifying an "entrenchment" reflected in the view of 83% of respondents that existing culture is the greatest barrier to change in their organisations. A mismatch in responses, particularly in recognition of the skills needed to integrate technology, suggests an industry willing to change but that does not yet know how to effect that change.
Contact
PwC UK
Diana Yeboah - Manager, media relations, London, PwC UK
+44 (0)7483 422914
Urban Land Institute
Chris Harris, Vice President, Communications
+44 7909 824760
About the Urban Land Institute
The Urban Land Institute is a non-profit education and research institute supported by its members. Its mission is to shape the future of the built environment for transformative impact in communities worldwide. Established in 1936, the institute has more than 45,000 members worldwide representing all aspects of land us and development disciplines.
ULI has over 4,000 members in Europe across 15 National Council country networks. For more information, please visit europe.uli.org, follow us on Twitter or follow our LinkedIn page.
About PwC
At PwC, our purpose is to build trust in society and solve important problems. We're a network of firms in 156 countries with more than 295,000 people who are committed to delivering quality in assurance, advisory and tax services. Find out more and tell us what matters to you by visiting us at www.pwc.com.
PwC refers to the PwC network and/or one or more of its member firms, each of which is a separate legal entity. Please see www.pwc.com/structure for further details.