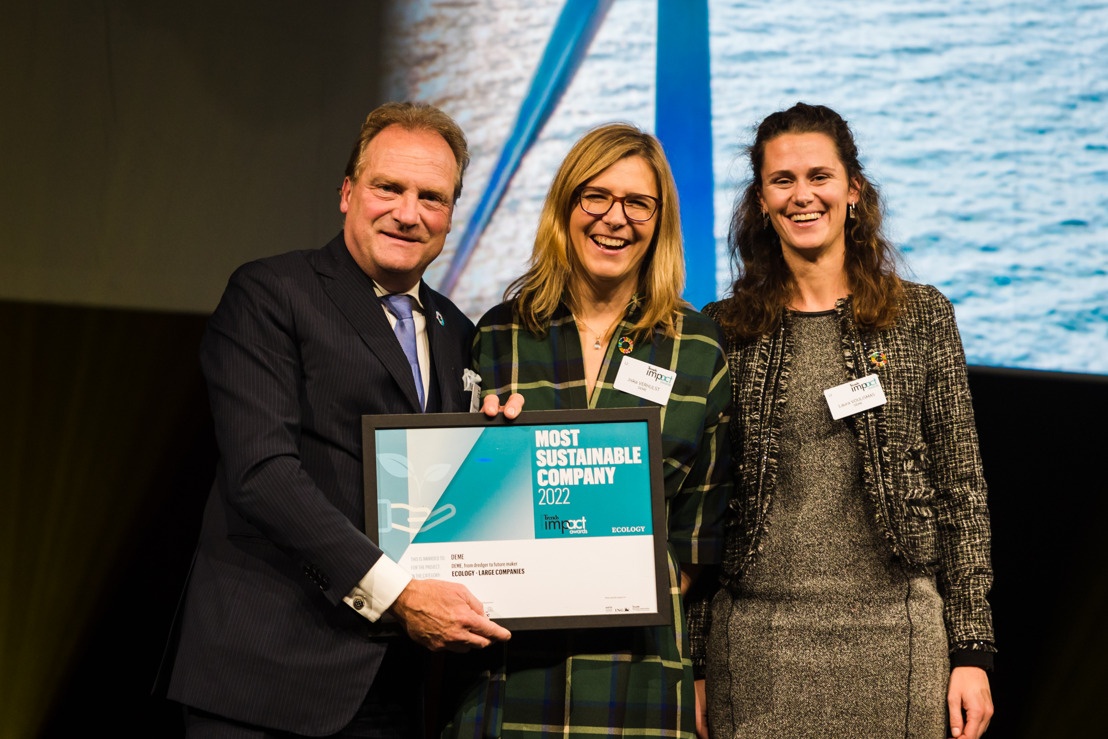 Deme and Spullenhulp/Les Petits Riens, winners of the Trends Global Impact Award!
Trends presents, in collaboration with PwC Belgium and Antwerp Management School, the Trends Impact Awards, the most prestigious awards for companies that create sustainable value for our society.
Wednesday, November 30th 2022 – This evening Trends, in partnership with PwC Belgium and Antwerp Management School (AMS), presented the dredging company DEME and collection project Spullenhulp with Trends Global Impact Awards for their pioneering roles in sustainability. The Trends Impact Awards reward Belgian companies whose outstanding sustainability strategy has resulted in projects with a positive impact on their surroundings in the past year.
The Trends Impact Awards are in their very first edition this year. The festive ceremony and gala dinner were attended by 350 guests, including numerous top people from the sustainability and business world.
The Trends Impact Awards are presented to companies that have gone above and beyond the conventional targets, such as a climate-neutral or energy-efficient policy, in their commitment to sustainable business. PwC Belgium, Trends and AMS aim to do more with the Trends Impact Awards than simply draw attention to companies that contribute to a more sustainable society; they also hope to play an important role in the transition to sustainability.
Companies were initially assessed in six categories according to a methodology developed by Prof. Dr. Wayne Visser of AMS: 'Ecology', 'Circular Economy', 'Resilience', 'Digitalisation', 'Wellbeing' and 'Diversity and Inclusion'. Subsequently, a Trends Global Impact Award was presented to a large company and an SME with the most impactful project across all categories. 181 companies took a shot at the big prize. PwC Belgium, Trends and AMS, who thoroughly screened all the companies, gave the Trends Global Impact Award to DEME and Spullenhulp/Les Petits Riens and nine other awards to companies in the six subcategories.
Wim Verhoeven, Trends magazine editor in chief: "Sustainability is hip and many initiatives are emerging. But with the Trends Impact Awards we want to be the most relevant, objective and credible competition. That is why we work together with an academic partner and a consultant. The first provided the methodological framework, the second expertise for a reliable audit of the submitted projects. The results are impressive. Nearly two hundred files, 117 companies screened, 27 nominees who passed a rigorous selection and ultimately 11 laureates. Each of them makes a difference to the environment or society. Each of them makes efforts that make you happy."
Jochen Vincke, Partner at PwC Belgium: "The Trends Impact Awards are a valuable recognition of sustainable ideas with an impact. They may have a leverage effect, inspiring other players to follow these companies' good examples, and initiate a wider movement. That contributes to a more sustainable economy, a more resilient society and greater security for our social prosperity.
For PwC, the impetus to be involved in these awards came from the growing importance of remaining relevant in society. "For our people, that social impact has become a crucial driver in itself for creating impact in our society. That was what made it so important to get behind these awards and support other companies in their transition to sustainability", adds Jochen Vincke.
Wayne Visser, professor of sustainable transition at Antwerp Management School: "The model I have worked out is an example of backcasting, the opposite of forecasting. With backcasting you determine a point in the future, let's say 2050, and you try to imagine in as much detail as possible what the ideal world would look like.
In my book "Thriving: The Breakthrough Movement to Regenerate Nature, Society, and the Economy," I first outline six collapses, then move to six breakthroughs, and then six market opportunities. Two domains deal with nature, two with social issues and two with the economy.
You can spread the 17 United Nations SDGs over the six transitions in my model. The SDGs are somewhat strange. When 190 countries have to agree on something, you get a hodgepodge. Some SDGs are problems, others are solutions, but in the SDGs you can find the triple bottom line of the environment, the social component and the economy, just like in my model."
Every facet of sustainability
The Trends Impact Awards are Belgium's most prestigious awards and aim to recognise organisations which are implementing (or have implemented) strategies which generate a positive impact and create sustainable value in accordance with ESG criteria and SDG goals.
However the broad consensus around ESG criteria and SDG goals makes it hard for companies to stand out in every one of the categories. Yet we still find inspiration across different domains in many of our Belgian businesses.
In order to be able to analyse as many inspiring projects and cases as possible, in addition to the Trends Global Impact Award for the most sustainable company with the highest score in all categories, we also award a Trends Impact Award for each subcategory: 'Ecology', 'Circular Economy', 'Resilience', 'Digital', 'Wellbeing' or 'Diversity and Inclusion'.
These categories are intended to stand the test of time, be future-proof, and are compiled based on academic research conducted by AMS and PwC Belgium.
PwC examined 181 companies in an extensive evaluation. The jury, consisting of journalists from the Trends editorial staff, involved members of the AMS and PwC Belgium and sustainability professionals from renowned companies in Belgium, extensively evaluated each of these dossiers and placed them in one of the subcategories. The companies that received a Trends Impact Award were the ones that demonstrated their social impact by way of initiatives with a wide range or scope, or ones that found a unique way of setting themselves apart from the crowd:
Ecology (large companies): DEME sustainably restores ecosystems with its soil remediation work and green hydrogen
Ecology (SMEs): Biolectric builds biogas stations that generate green energy from manure
Circular Economy (large companies): Ekopak specialises in water recycling
Circular Economy (SMEs): Gramitherm makes insulation panels based on grass fibres
Resilience (large companies): Vivaqua, the Brussels water board, has come up with a new action plan
Resilience (SMEs): Galler Chocolaterie recovered from near insolvency with a more sustainable policy strategy in 2018
Digitisation: LITA.co is a crowdfunding platform exclusively for sustainable companies
Wellbeing: Mindlab offers online courses in mental wellbeing
Diversity and Inclusion: EducIT makes digital integration solutions for education in Wallonia
DEME won the Trends Global Impact Award for large companies. Besides dredging, DEME is a pioneer in soil remediation and offshore energy. It restores ecosystems by remediating brownfield sites, which are areas polluted by intense industrial activity. Furthermore, it supplies large multinationals with nature-based fuels thanks to its innovation in green hydrogen. DEME also picked up the award for large companies in the 'Ecology' category.
The other big winner is Spullenhulp/Les Petits Riens. This collection project that helps to fight poverty by recycling and distributing second-hand clothing received the Trends Global Impact Award for SMEs. Spullenhulp/Les Petits Riens is celebrating its 85th anniversary this year, and is a pioneer in the field of diversity. Through a partnership with the Public Centres for Social Welfare (OCMW/CPAS), Spullenhulp/Les Petits Riens offers work and training to people on benefits or a minimum wage. This way, the non-profit organisation can help people back into the employment market.
About PwC
At PwC, our purpose is to build trust in society and solve important problems. We're a network of firms in 152 countries with more than 328,000 people who are committed to delivering quality in assurance, advisory and tax services. Find out more and tell us what matters to you by visiting us at www.pwc.com.
PwC refers to the PwC network and/or one or more of its member firms, each of which is a separate legal entity. Please see www.pwc.com/structure for further details.
© 2022 PwC. All rights reserved.
About Antwerp Management School
Antwerp Management School is an internationally renowned business school in the center of Antwerp. AMS has been a leader in innovation, transformation, entrepreneurship and ecosystems with a focus on people and society for 60 years.
Sustainability is firmly anchored in AMS's mission as an international management school that prepares future managers and leaders for key roles in international business.
Central to AMS' vision on leadership is the belief that successful leaders should act and make decisions from a global mindset and that they should consistently assess their impact on society from a stakeholder perspective. The AMS baseline summarizes this nicely: "Opening minds to impact the world".
https://www.antwerpmanagementschool.be/en/sustainability-ams
About Roularta Media Group
Roularta Media Group is an international multimedia group, market leader in Belgium in the field of magazines and editor amongst others of the business magazines Trends and Trends-Tendances, initiator of the Trends Impact Awards.
Roularta Media Group believes in 'One Team, One Family, One Planet' and is involved today in building a better world for tomorrow. Roularta Media Group has drawn inspiration from the United Nations' 17 SDGs for its own sustainability ambition and has selected the following four SDGs as its priorities: quality education, decent work and economic growth, responsible consumption and production and climate action.
Roularta Media Group has signed the Green Deal to contribute to nature.
https://www.roularta.be/en/about-roularta/sustainability
Contact:
PwC Belgium – Jochen Vincke - [email protected]
AMS – Prof. Dr. Wayne Visser - [email protected]
Trends – Wim Verhoeven – [email protected]