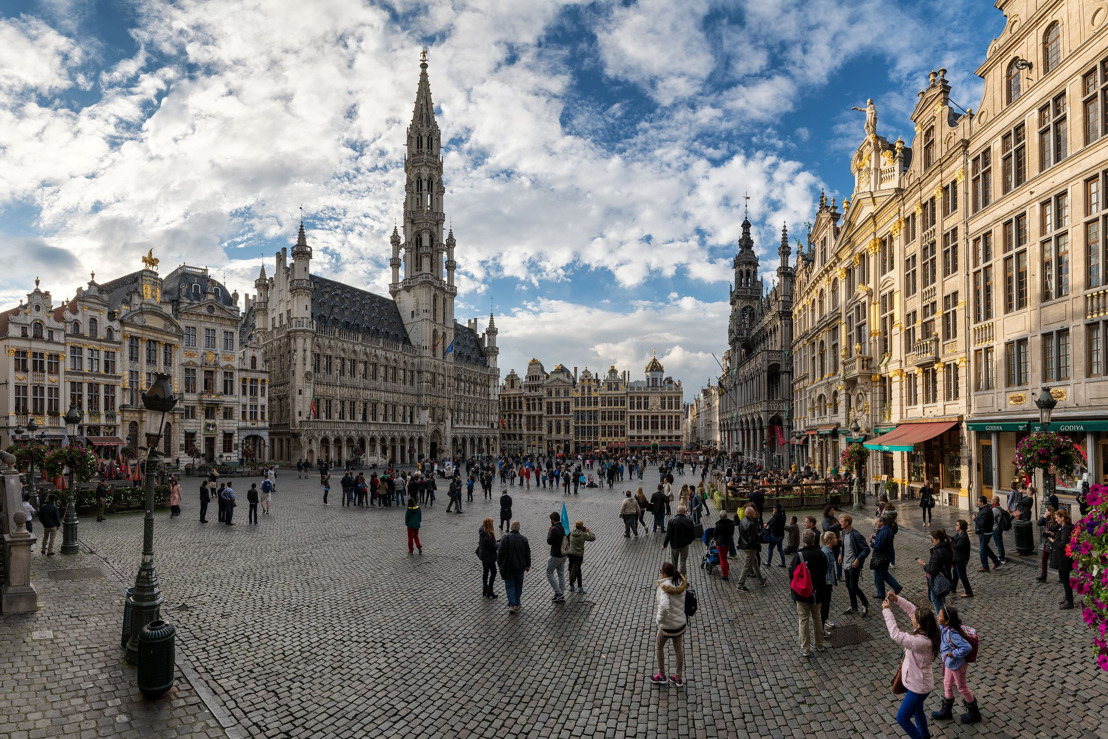 Brussels ranked 13th out of 31 European cities for overall real estate prospects
ULI / PwC - Emerging Trends in Real Estate
Brussels, which is 13th in the rankings is viewed as increasingly attractive for international real estate investors, last year Brussels ranked 21st on the list.
Operational sectors such as residential and hotel grow in strength and offices hit record take-up levels
The city can benefit from emerging mobility solutions to counter its local connectivity issues
07 November 2019 - The 17th edition of Emerging Trends in Real Estate® Europe 2020 demonstrates that investors are increasingly drawn to the advantages that the Brussels property market has to offer.
Greater levels of investor interest have been led by the growing strength of the office market, which saw an all-time high for take-up in the first half of 2019. This has been partly driven by the demand for co-working spaces, particularly in prime locations in Brussels' central business district.
"We've seen significant growth in the office market compared with two years ago," said Grégory Jurion, Partner and Real Estate leader at PwC Belgium. "This growth, combined with the stable income that the city's office market offers, makes it an increasingly attractive proposition to international investors."
While Brussels' traditional positioning as the "Capital of Europe" has not always translated into immediate appeal among global real estate investors, the city is now receiving much more positive attention, according to the annual report.
Emerging Trends in Real Estate® Europe 2020, published jointly by the Urban Land Institute (ULI) and PwC, is based on the opinions of over 900 real estate professionals in Europe, including investors, developers, lenders, and advisors.
Move to operational real estate
The city has also benefited from the wider European investment trends for more operational sectors such as residential and hotels. Residential has been driven by local demand for housing and the strategy for existing property to be repurposed for example to residential or mixed-use.
An increasing number of redundant buildings in the city have been converted into hotels, with the strength of this sector underpinned by an increase in visitors to the city. According to visit.brussels, the Brussels tourist agency, in the first 7 months of 2019 attendance at museums and attractions rose to 2.65 million visitors, an increase of 4% compared to the previous year. The number of bed nights spent by visitors (for both business and leisure) at end June 2019 was 3.68 million, up 6% on the year before. Hotel occupancy rates from January-September 2019 reached 74.5% (a 2-point increase over the prior year), and this strong demand for overnight accommodation is fuelling performance in the hotel sector.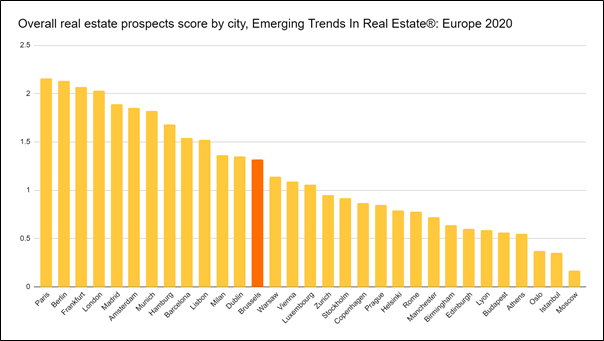 Lisette van Doorn, CEO of ULI Europe, said: "The repurposing of buildings, especially to residential, is a trend we see right across Europe. It is both about meeting supply requirements in this sector, but also the industry recognising the value in operational assets that contribute to the success of mixed-use and higher density locations."
The increased activity in Brussels has included converting redundant buildings into hotels and residential. Xavier Denis, Chair of ULI Belgium, said: "We need to respond to citizens' new work, shopping and living habits. It is up to real estate developers to find the right balance between this mix of uses and the social needs of users, to meet and exchange in person."
Mobility as a key aspect
The report also examines the changes being seen in transportation, driven by rapid advances in both mechanical and digital technology, and how the real estate sector needs to adapt to this evolution.
Historically, attention has focused on major infrastructure such as the road and rail networks and airports. However, new, smaller scale mobility solutions such as scooters, car-sharing and e-bikes could also significantly impact real estate values, with large high-density cities expected to be at the forefront of these changes. Traditionally, Brussels has struggled with poor commuting times for residents so these emerging mobility solutions give the city an opportunity to improve its connectivity.
"All stakeholders recognise the real need to make public transport to - and around - Brussels more efficient," said Geoffroy Jonckheere, Partner in PwC Belgium's Real Estate practice. "There is a collective will to play a role in the transition away from cars to public transport, shared vehicles, pay-per-use bikes and scooters. These developments are also opportunities for the real estate sector to embrace 'mobility as a service', and to integrate it into the real estate value proposition."
View the Emerging Trends in Real Estate® Europe 2020 report here.
Erik Oosthuizen, External Communications, PwC Belgium
Tel: +32 490 582 284
Email: [email protected]
Chris Harris, Communications and Marketing Director, ULI Europe
Tel: +44 (0) 7909 824 760 / +44 (0) 20 3934 2241
Email: [email protected]