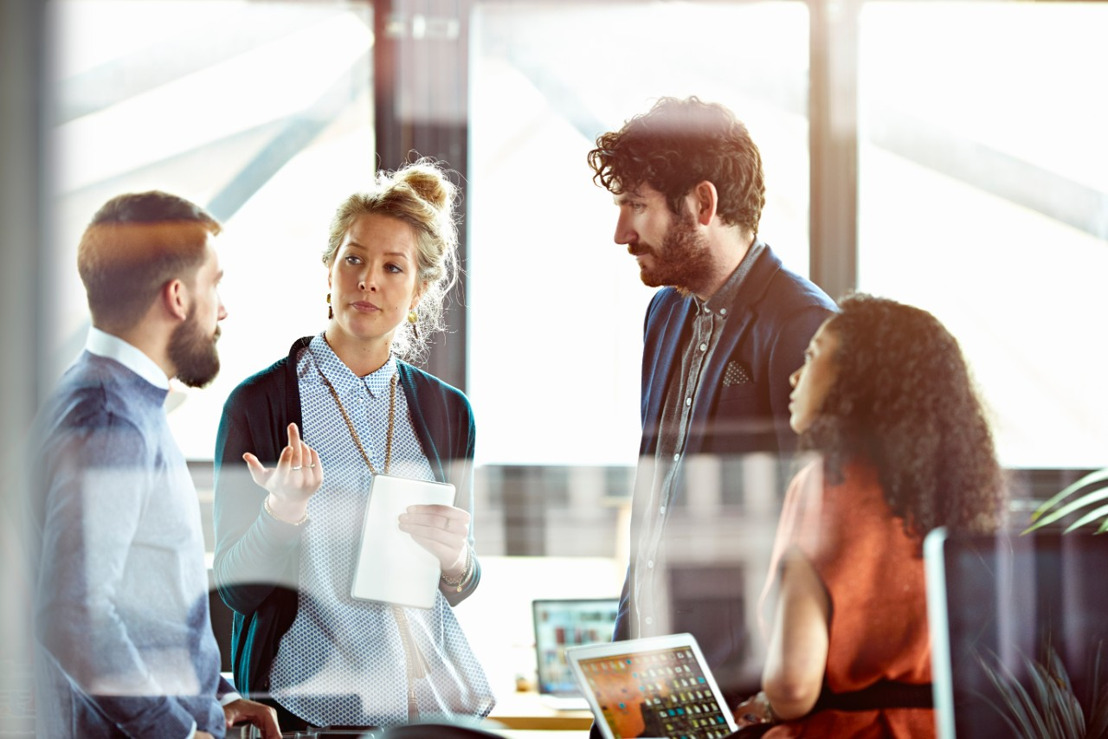 Belgium in 10th place of the best countries in the world for economic empowerment of women
PwC Women in Work Index
Belgium has improved its position, moving from the 12th to the 10th position on the Index.
The position of Belgium reveals substantial efforts in increasing female boardroom representation (31.1%) and reducing the gender pay gap (5.2%)
Belgium's performance continues to be held back by a low rate of female labour participation (64.3%) compared to other OECD countries
Wednesday 4 March 2020 - International Women's Day marks yet another year of continued steps to improve the representation and welfare of women in the world of work. The eighth annual update of the PwC Women in Work Index shows that gains in female economic empowerment have been made across the OECD countries, but the pace of change remains gradual. Belgium managed to increase its ranking from 12th position to 10th this year. In particular, Belgium's gender pay gap (defined as the difference in median earnings between males and females) has been narrowing gradually to 5.2%, keeping it well below the OECD average (15%).
The PwC Women in Work index combines five key indicators of female economic empowerment: the equality of earnings with men; the proportion of women in work, both in absolute terms and relative to men; the female unemployment rate; and the proportion of women in full-time employment.
Iceland and Sweden retained the top two positions for the fifth year in a row, with Slovenia in third place. Estonia and Ireland recorded the biggest decline in their ranking in the index this year, both falling by four positions mainly due to a decrease in the female full-time employment rate in Estonia and a widening of the gender pay gap in Ireland.
Performance of Belgium
From 2017 to 2018, Belgium rose two places from 12th to 10th position on the Index. Over this period, Belgium saw sizable improvements in four of the five indicators. In 2018, a woman earned an hourly wage that was on average 5.2% lower than a man's hourly wage. And yet, Belgium performs better than most of the other OECD countries in terms of pay gap between women and men, with an average of 15% wage gap.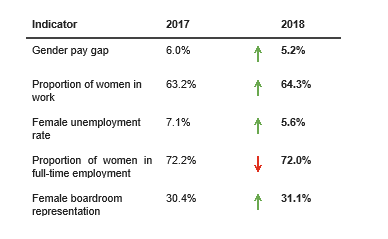 One of the key areas impeding progress in Belgium is female labour force participation, with Belgium ranking 27th among the 33 OECD countries. Only 64.3% of women in Belgium participate in the labour market. In comparison, Iceland has a female labour participation rate of 84.5%, making it the country with the highest proportion of women in the labour market.
Long term trends in Belgium
Since 2000, Belgium has made one of the largest improvements moving up 10 places from 20th to 10th place, making it one of the biggest movers amongst the OECD countries.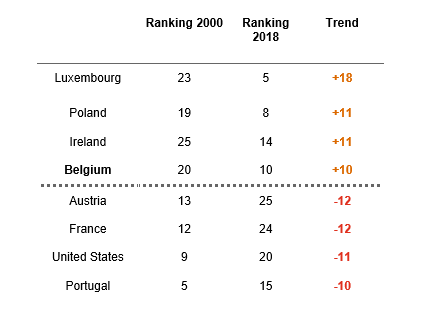 Since 2000, Belgium has improved its performance across all five indicators, with the largest
improvement made in increased representation of women on boards, which rose by 23.4 percentage points (+304%). Belgium has also made significant progress in reducing the gender pay gap, which fell by 7.8 percentage points (-60%).
Griet Helsen, Partner at PwC Belgium, states: "It is positive to see that Belgium has made great strides forward over the past 20 years. Particularly in terms of the gender pay gap and women's representation in boards, we stand out from other countries. Nevertheless, overall progress across the OECD is still quite slow, despite the enormous economic benefits of increasing women's participation in the labour market. It is crucial that women are given the right opportunities to develop in the face of increasing automation as we enter the Fourth Industrial Revolution".
Potential economic gains from improving female economic empowerment
Our analysis provides estimates of the broad order of magnitude of potential gains for each country from increasing female employment rates to match those of Sweden – a consistently top performer in our Index with a female employment rate of 81.2%.
The potential long-term economic gains across the OECD from an increase in women in employment amount to a GDP increase of over US$6 trillion. The economic benefit for Belgium could be significant. Increasing the female employment rate from 64.3% to that of Sweden (81.2%) results in gains of around 13% of Belgian GDP, or EUR 65 billion.
Contact
Erik Oosthuizen, External Communications, PwC Belgium
Tel: +32 490 582 284
Email: [email protected]