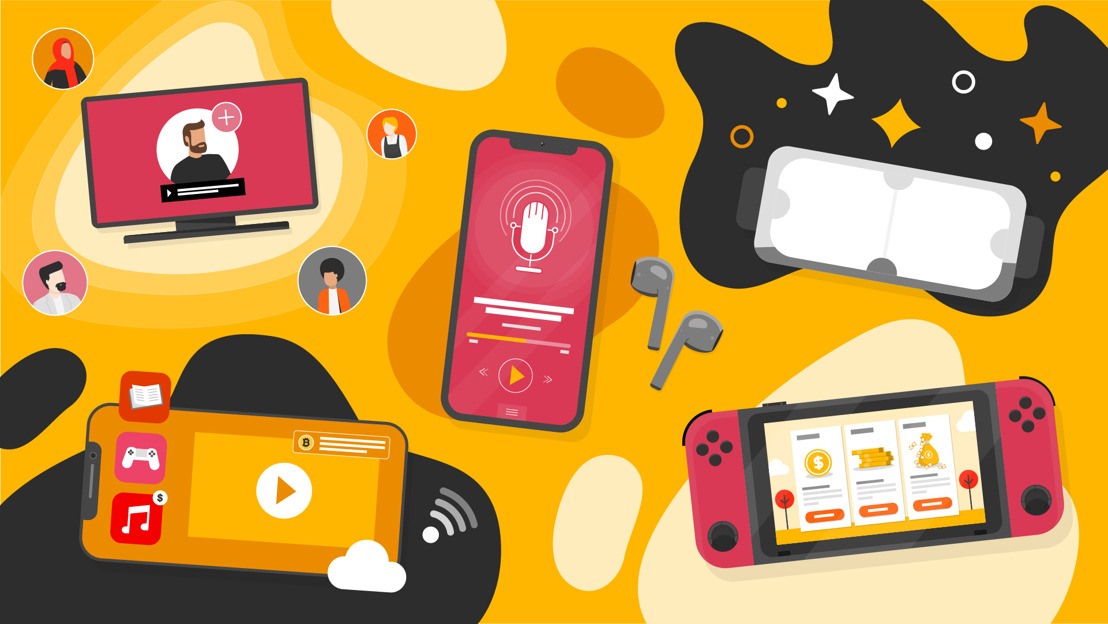 Belgian entertainment & media sector contracts by 7.8%, while a shift to streaming, gaming and user-generated content transforms sector
PwC's 22nd Entertainment & Media Outlook
Belgian entertainment and media revenues declined 7.8% in 2020, the biggest decline in the Outlook's history, but are rebounding strongly - we project a 4.9% CAGR over the next five years.

Traditional TV/video remains one of the largest segments, but will continue to shrink (just 1.4% CAGR) over the next five years.

Meanwhile, video streaming will boom - subscription video on demand will grow at a 10.6% CAGR globally by 2025, and at a 11.5% CAGR in Belgium.
Monday 12 July 2021 – The entertainment & media industry has regained its momentum. The Belgian €10,04bn industry is on track to grow 6.5% in 2021 and 7.2% in 2022, fueled by strong demand for digital content and advertising. The renewed growth follows a challenging 2020, when in-person entertainment plummeted, including a 67% decline in movie theatre box office revenues. These figures come from PwC's Global Entertainment & Media Outlook 2021-2025, the 22nd annual analysis and forecast of entertainment and media spending by consumers and advertisers across 53 territories.
The 3.8% decline in global entertainment and media revenue, from €1.9trn in 2019 to €1.8trn in 2020, was the biggest year-on-year drop in the Outlook's 22 years. In the Belgian entertainment and media industry this drop was even more tangible with a -7.8% contraction. However, consumers' embracing of all things digital in 2020 helped offset sharp revenue losses across the broader entertainment and media sector. From 2021 to 2025, the Outlook projects global entertainment and media revenue to grow at a healthy compound annual growth rate (CAGR) of 5.0%. This will take industry revenues globally to €2.3trn in 2025 and in Belgium to €12.74bn, with a CAGR of 4.9%.
Migration to digital, powered by disruption
The most obvious - and most global - of the drivers of change in entertainment and media is the migration to digital consumption. Amidst changes in the entertainment and media landscape, traditional TV/home video remains the largest consumer segment (€199bn) globally, while it also accounts for the second largest segment in Belgium with €1.83bn in revenue. Still, it will continue to shrink over the next five years (just 1.4% CAGR in Belgium).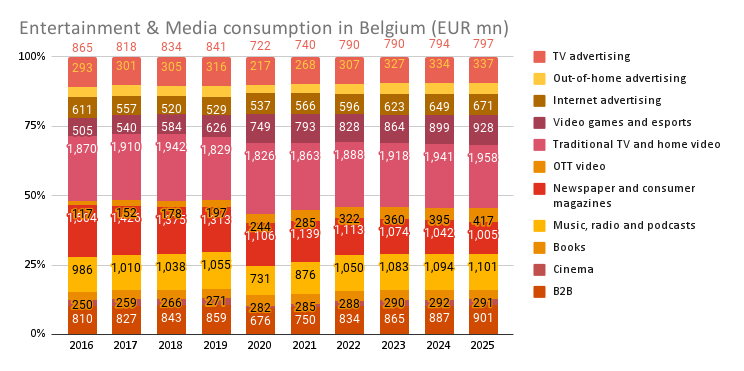 Internet access accounted for 16% of entertainment and media spending in 2020 and will increase at a 6.2% CAGR, from 2020's €3.2bn to €4.6bn in 2025. Mobile internet access will drive market growth, with revenues rising at a CAGR of 10.7% from €1.4bn in 2020 to €2.6bn in 2025. One of the key impacts of the pandemic was that more people spent more time at home and more time online. The combination of more devices, higher speeds and more activity fuelled remarkable growth in global data consumption, which rose 30% during the year and is projected to continue rising at a 26.9% CAGR through 2025.
New phase of streaming growth
Foremost among the shifts in the entertainment and media sector is the streaming boom of 2020, which has set the industry on a new growth trajectory. Subscription video-on-demand (SVOD) in Belgium is projected to grow at a CAGR of 13.75% to 2025, making it a €383mn industry in Belgium.
We may be moving into a new phase of streaming growth - one that is more measured, more focused on improving the experience of customers, and more intent on rcreating value from the immense subscriber bases that have materialised. Moreover, the expanding array of global streaming services now available in territories worldwide is supplemented in most cases by a slew of local providers gaining market share, including in Belgium. It will remain interesting to see how local players will be able to compete with the bigger market players, given there is likely a limit to the number of streaming subscriptions a household is willing to buy - and people can cancel their OTT services with relative ease.
Meeting consumers where they are
One of the clearest trends is that players are realising they may be better served by figuring out how to meet consumers at their convenience. Gaming is central to the youth movement and is becoming a significant driver of data consumption – in fact it is on pace to be the fastest-growing content category in that regard, accounting for 6.1% of total data consumption globally by 2025, up from 4.7% in 2020. Video games and esports revenues in Belgium also continue their rapid ascent, expected to grow to €793 mn in 2021, with a 6.8% CAGR projected to expand the segment to become an almost €928mn business by 2025.
In an increasingly virtual world, entertainment and media companies also continue to regard consolidation and deals as a valuable way to reshape their businesses and maintain or gain market leadership. Companies are engaging in transactions to tap into new audiences with new habits, and to access the depth of content needed to meet consumers where they are. Meanwhile, the European Union has led the way globally in seeking to limit the power of the big platforms, on the grounds of protecting market competition and ensuring transparency in the use of citizens' data
Axel Smits, Chairman of PwC Belgium concludes: "The entertainment and media sector won't revert to a world that looks anything like before, even when the pandemic is past, and for two main reasons. First, the industry is in a constant state of evolution, and trends tend to accelerate rather than slow down. Second, and more important, the crisis has wrought changes to consumer behavior that are likely to stick.
In this sense, the surrounding volatility masks a certain stability. The central role that the ever-expanding array of media experiences plays in people's lives is set to strengthen even more over time. The major shifts occurring - with consumers spending more time at home and focusing on a more personal relationship to content and experiences - have highlighted the importance of engendering trust with people, as they invite more entertainment and media into intimate spaces."
About the Global Entertainment & Media Outlook
The PwC Global Entertainment & Media Outlook, with the accompanying "Power Shifts - 2021" publication, provides in-depth analysis of global entertainment and media consumer and advertising spending. The Outlook includes five-year historical and five-year forecast data and commentary for 14 industry segments across 53 territories. Segments include books; business-to-business; cinema; data consumption; internet access; music, radio and podcasts; newspapers and consumer magazines; OTT video; TV and home video; as well as internet, out-of-home and TV advertising. Find out more at www.pwc.com/outlook.