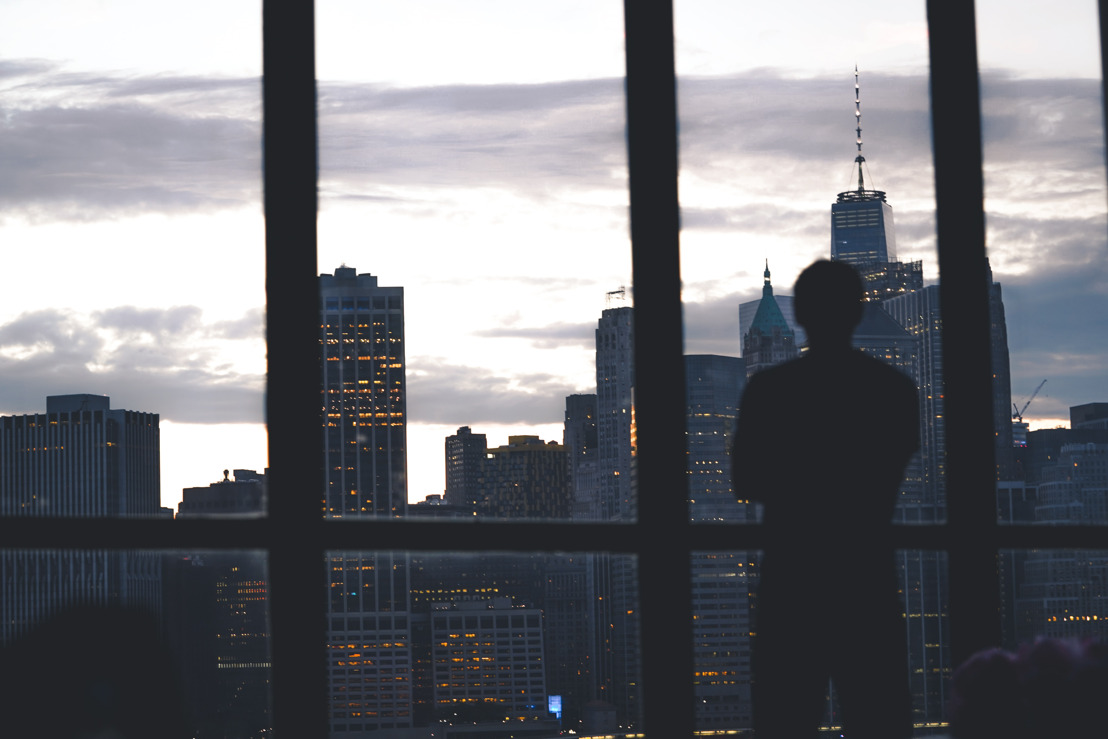 Belgian CEOs optimistic about business and economic prospects in 2021
PwC's 24th CEO Survey
82% of Belgian CEOs believe global economic growth will improve in 2021, up from 22% in 2020;
Cyber threats top the list of biggest threats that Belgian CEOs are extremely concerned about;
Belgian CEOs fear over-regulation and policy uncertainty more than a new health crisis;
Spending in digital transformation will not slow down: 56% of CEOs will increase investments by ≥10%;
28% of CEOs are extremely concerned about climate change. At the same time, they're struggling with measuring and reporting on their environmental impact.
Thursday 11 March 2021 - PwC's 24th edition of the CEO survey, surveying over 5,050 CEOs worldwide, including 50 Belgian CEOs, shows that Belgian CEOs are single-mindedly optimistic about the prospects of economic recovery, a notable rebound compared to the results of recent years. Amid this optimism, cybersecurity is giving Belgian CEOs cause for concern, especially in the wake of the accelerated digital transformation that took off this year. With serious challenges facing organisations in Belgium today, the climate issue remains at the top of the agenda, although measuring and reporting about the impact remains a pain point. "A renewed emphasis on restoring trust will be extremely important to lift Belgium out of the crisis and to be ready for the post-COVID world", urges Axel Smits, Chairman of PwC Belgium.
Unprecedented optimism …
One year after the WHO declared COVID-19 a pandemic, 82% of Belgian CEOs believe global economic growth will improve in the year ahead, 60 percentage points greater than last year. This is even more pronounced than their global peers (76%) and of CEOs in our neighbouring countries, the Netherlands (72%), France (59%) and Germany (80%). CEOs' optimism even extends to their own company's performance, a trend that is prevalent in both Belgium and globally. In Belgium, 86% of CEOs say they are confident about their organization's prospects for revenue growth over the next year (versus 85% globally), while 88% are very confident looking ahead three years (versus 88% globally).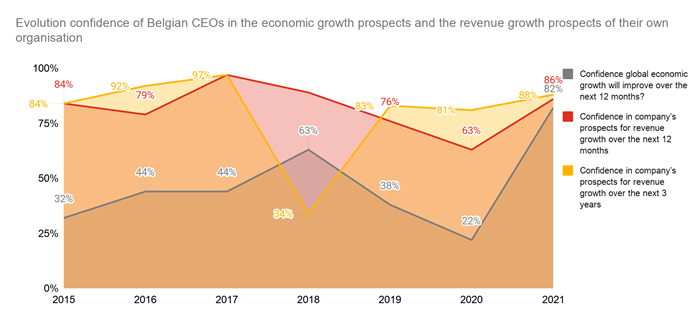 "The outspoken pessimism in economic growth expectations that CEOs expressed last year in our survey already reflected that our economy was heading towards an inevitable slowdown. But the unexpected disruption caused by the COVID-19 pandemic made 2020 a year like no other. Despite the human tragedy and dire economic consequences, there is still good reason to be optimistic about our ability to recover, especially in light of the current momentum around vaccine rollout in many parts of the world.
But there's a long-term road to recovery ahead of us, that will move businesses to gear up for new priorities. There's an opportunity for them to evaluate their decisions against broader societal impacts. This way, they'll set a course that rebuilds trust with their stakeholders and society. At the same time, they need to become robust enough to handle future disruptions by reconfiguring their business and ensure sustainable outcomes for society in a rapidly changing external environment."
But lingering apprehension
Despite their confidence in economic improvement, CEOs are acutely aware of threats in the external environment. In the current uncertain climate, it is not surprising that Belgian CEOs are attentive of the possible steps governments will take to respond to the current challenges. This explains why overregulation, policy uncertainty, populism and geopolitical uncertainty are topping the list of threats perceived by CEOs in Belgium. In fact, Belgian CEOs fear over-regulation and policy uncertainty more than pandemics or other health crises, while the latter is perceived as the largest threat for CEOs globally (52%).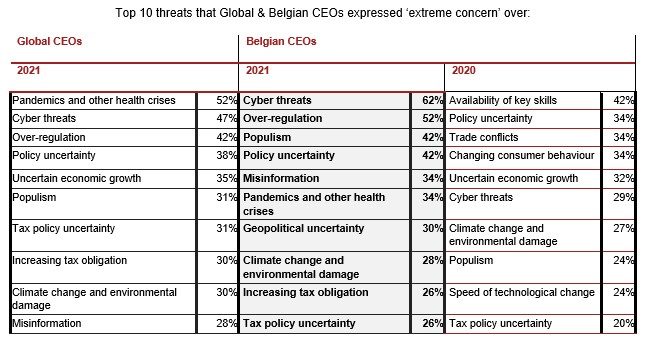 Reflecting the steady rise in cyberattacks over the past year, Belgian CEO's biggest concern relates to cyber threats, with 62% being 'extremely concerned', a rise of 29 percentage points compared to last year. Another threat rising rapidly on the list of Belgian CEO concerns is the spread of misinformation (34%), up from 29% in last year's survey. The rise of these latter two threats coincides with the rapid acceleration of companies' digital transformations this past year, with no plans to slow down: 56% of Belgian CEOs plan to increase their investments in digital transformation by 10% or more. Despite the rising level of concern about cyberattacks, this has not translated into decisive actions: just 28% of Belgian CEOs are also planning to boost spending on cybersecurity and data privacy by 10% or more.
"While the outbreak of the pandemic has brought about a significant increase in digital adoption and transactions, it has equally extended the risks associated with this sudden and large-scale move to the digital sphere. The impact of this surge in cyber attacks and misinformation has been profound, yet more importantly, it touches upon the very fabric of society: trust. The pandemic has validated the many ways that trust is earned and eroded, both in institutions and in technology, making the role of trust more important than ever. With digital trust waning, we need a larger value framework in which we rethink the very nature of security in order to bridge the trust divide", explains Axel Smits.
CEOs are still grappling with climate change
The threat ranking of climate change has changed much less. 28% of CEOs are extremely concerned about it (versus 27% last year), in line with the global average of 30%. Climate change still only ranks eighth in Belgium and ninth among CEOs globally in the list of perceived threats to growth. Furthermore, another 20% Belgian CEOs report being "not concerned at all" or "not very concerned" about climate change, a little lower than the global average of 28%. This may be because climate change is not seen as an immediate threat to growth compared to other issues such as the pandemic, over-regulation and cyber threats.
Meanwhile, 50% of Belgian CEOs feel their organisation needs to do more to measure their environmental impact, which is more pronounced than what CEOs globally reported (39%). Another 52% believe their organisation needs to do more to 'report' on it, again higher than the global average (43%). However, 55% of Belgian CEOs have not yet factored climate risks into their strategic risk management activities, which is concerning as climate change poses increasing physical and transitional risk for business. While 42% of Belgian CEOs plan to significantly increase investments in sustainability initiatives as a result of COVID-19, almost one fifth of CEOs are planning no change at all.
"Given the many challenges that businesses are facing today, it's encouraging to see that the concern over climate change has not shifted down the ranking. Most CEOs have been confirming the importance of the climate issue for a few years now, especially as companies are becoming increasingly aware of the external effects they cause. However, there's still a gap between the awareness and actually measuring and reporting about their environmental impact. More and better corporate information on environmental impact is key to driving the change needed to get to a net zero economy. The current COVID-19 crisis provides a unique window of opportunity to create more urgency around this challenge, and to reconfigure our economic model towards a more sustainable future", concludes Axel Smits.
Download the survey here: www.pwc.be/ceosurvey
About the CEO Survey
PwC surveyed 5,050 CEOs in 100 countries and territories in January and February 2021. This is up from 3,501 respondents in last year's survey. The global and regional figures in this report are based on a sub-sample of 1,779 CEOs, proportionate to country nominal GDP to ensure that CEOs' views are representative across all major regions. Further details by region, country and industry are available on request.