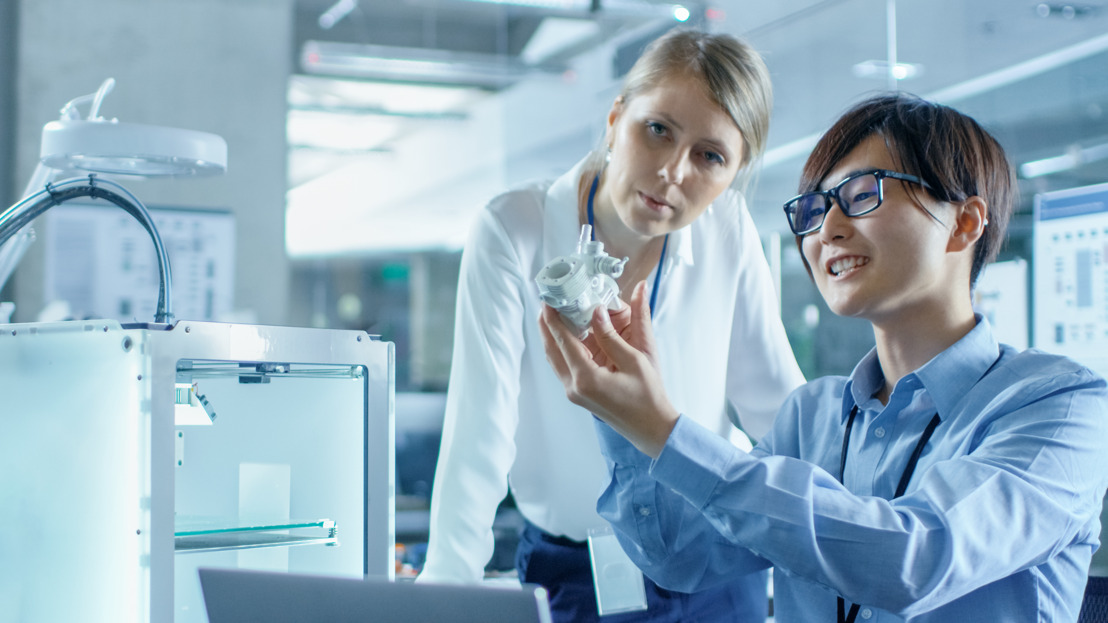 3D printing is growing: the number of jobs will double from 1500 to 3000 by 2024
Additive manufacturing, 3D printing on an industrial scale, is an industrial expertise that is becoming increasingly important. This is what the technology federation Agoria, consultancy bureau PwC and technology research centre Sirris have concluded in the first study on additive manufacturing in Belgium. A survey among 95 companies active in the 3D printing field shows that 50% of these companies expect to grow at a rate of more than 10% in terms of revenue and that jobs within the industry will increase significantly within the next five years. The organisations have also highlighted various challenges regarding certification, qualifications, financing and training.
Additive manufacturing (AM) works in a completely different way to traditional manufacturing processes: the design of a part or product is first sent to the 3D printer in slices (pre-process), the printer then builds the product by adding material layer upon layer (printing process) and finally the support structure is removed and the end product cleaned and assembled (post-process).
3D printing on an industrial scale will undoubtedly be a groundbreaking technology in the coming years. The technology has been available for more than thirty years and companies worldwide increasingly believe and invest in AM. It is expected to reform the manufacturing industry within a decade.
Peter Vermeire, partner at PwC Belgium: "We expect a positive impact on a wide range of activities in different sectors: greater customisation ability, better fit for functionality by designing parts for specific uses, a reduction of the number of components and benefits to the supply chain with the introduction of a digital rather than physical inventory. AM, for instance, allows for real customisation of prostheses and hearing aids in healthcare. In the aerospace industry, we're seeing improved design for weight reduction. The list of applications is infinite."
Belgium is a pioneer in the area of AM research and the industrial application of AM could provide added value to our country, but only if a clear framework which allows the technology to develop is implemented.
Marc Lambotte, CEO at Agoria: "Even though the study shows that the growth potential of the technology is high, there are obstacles in terms of certification, qualifications, financing and training. If our manufacturing industry does not overcome these hurdles, we risk losing out on significant opportunities provided by AM technology. We could lag behind and not be able to catch up later."
There is currently no AM certification or qualification programme for printed products. Government support of further development and integration of AM technology in educational programmes would be a great help to future development of the technology.
About PwC
At PwC, our purpose is to build trust in society and solve important problems. We're a network of firms in 158 countries with more than 250,000 people who are committed to delivering quality in assurance, advisory and tax services. Find out more and tell us what matters to you by visiting us at www.pwc.com.
PwC refers to the PwC network and/or one or more of its member firms, each of which is a separate legal entity. Please see www.pwc.com/structure for further details.
Contact:
Erik Oosthuizen
+32 (0)490 582 284
About Agoria
Agoria is an organisation of technology companies. Agoria is laying the path for all technologically inspired companies in Belgium that strive for progress through the development and application of innovations. We are proud that more than 1,900 companies that represent more than 300,000 employees trust our three service cornerstones: consultancy, business development and creating an optimal entrepreneurial environment.
The Agoria team consists of two hundred motivated professionals. Their respective professional know-how, competences and networks ensure our organisation is able to provide high-quality, high-performance services.
Contact:
Frederik Meulewaeter
+32 (0)477 39 75 43
About Sirris
Sirris is the collaborative centre for the Belgian technological industry. Sirris was established in 1949 by Agoria. With more than 150 highly qualified engineers, scientists and technical experts, Sirris helps companies implement technological innovations. They work on site, provide technical advice and help set up and implement innovation processes.
Sirris aims to increase the competitive position of companies on the international market. More than 2,300 Belgian companies are members of Sirris and therefore have access to their wide range of services. Sirris sets up regional, national and international research projects with many partners to ensure their knowledge base is as varied and extensive as possible.
Contact:
Marie-France Rousseau
+32 (0)498 91 94 56
About ENGIE Laborelec
ENGIE Laborelec, an entity of the ENGIE Group, is a leading expertise and research centre in electrical power technology. Drawing on the skills of 250 highly specialised engineers and technical experts, it provides operational assistance, technical consultancy and applied R&D services, and is active in the entire electricity value chain. Its services support a wide range of customers in the areas of electricity generation, transmission, distribution, storage and final use, with a particular focus on energy transition and it's 3 Ds - decentralisation, decarbonisation and digitalisation. ENGIE Laborelec, today part of the ENGIE business unit Tractebel, is a global actor with activities in more than 60 countries and offices in Belgium, the Netherlands, Germany, Chile and Abu Dhabi.
Material technology – Competence centre
ENGIE Laborelec operates a fully-equipped 3D Printing Lab, not only for the production and testing of metal parts, but also for metal powder characterisation, optimisation of process parameters, prototyping and many other improvement services. For the testing and quality assurance of produced parts, we rely on in-house equipment for non-destructive, metallurgical and mechanical assessment. Our 3D Printing experts optimise designs based on the functionality required and any constraints, taking full advantage of the design freedom offered by the exciting 3D printing technologies.ENGIE Laborelec focuses on high-end components that should fulfil specific qualification requirements from powder to end product.