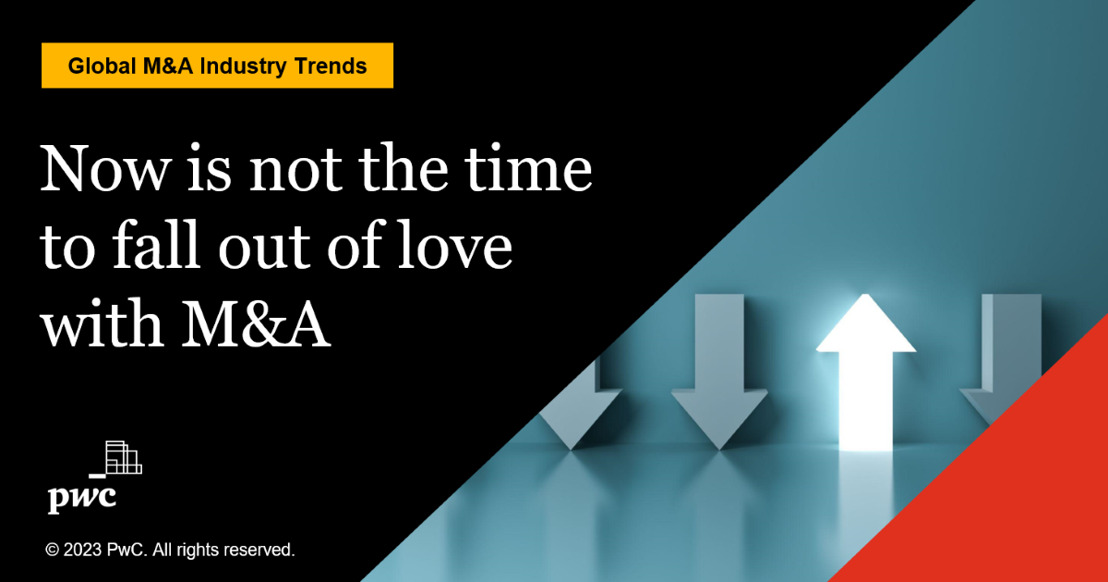 2022 second-strongest year since 2018 for Belgian dealmaking in terms of value, as executives stay committed to M&A despite market volatility
PwC's M&A report confirms that Belgium is strong in health industry and financial services
Brussels, 25 January 2023 – Despite a slowdown in the year's second half, 2022 will also be the second-best year for Belgian dealmaking since 2018, with a deal value of USD 14.4 billion. This is a 27% decline from the previous year's record-breaking figure of USD 19.6 billion. Some businesses are taking advantage of the current economic turmoil to strengthen their competitive position. These are some of the findings of PwC's 2023 M&A Industry Outlook.

Continued resilience of M&A deals in health industries and financial services
Despite more unfavourable transaction circumstances in 2022, the health industry and financial services sectors had their best year in terms of deal volumes since 2018. This confirms the notion that both industries are vital to Belgium. Although the general public is familiar with the large "big pharma" corporations, the Belgian healthcare sector comprises a diverse ecosystem, including numerous SMEs. These range from start-up and innovative biotech players to established pharmaceutical material supply chain companies. A Japanese company's recent acquisition of ADx Neurosciences is an excellent example of an M&A deal in the flourishing Belgian biotech industry.
Nancy De Beule, Partner in the M&A team at PwC Belgium, says: "Health industries have proven to be robust in earlier downturns and remains an excellent investment sector. There are no two cycles alike, but the sector continues to build on what we've seen as a textbook example of a sustainable and profitable industry with a lower risk profile."
In the financial services industry, Belgium has global gems such as Swift, Euroclear and Bureau Van Dijk. Players in the fintech ecosystem are building for expansion, as witnessed by iBanFirst's acquisition of London-based FX provider Cornhill. In the health industries space, Galapagos' acquisition of CellPoint in the Netherlands was an important milestone.
M&A opportunities emerge during challenging times
In early 2023 the short-term economic outlook remains clouded by fears of global recession and rising interest rates as central bankers try to tame sharp inflation in many regions. When combined with edgy investors still digesting 2022's steep decline in global stock market valuations, the war in Ukraine, other geopolitical tensions, supply chain disruptions and tightening regulatory scrutiny, it's no wonder executives have been forced onto the back foot.
These challenging conditions, paradoxically, create once-in-a-decade opportunities, thanks to an expected reset in valuations, less competition for deals, and new assets coming to market -including from distressed players- among other factors. PwC expects that the deals market will remain subdued for the first half of 2023, but given the circumstances, we also believe C-suites and boards should overcome their natural misgivings and embrace M&A as part of their strategy. Some have already begun to open their wallets to capitalise on these opportunities and potentially lay the foundations for leapfrogging competitors. Private equity has, on the one hand, still a lot of cash to invest. On the other hand, corporates are often less troubled by the increased interest rates as the investments they take are leveraged to a lesser extent.
The family-owned business segment is emerging as another source of deals activity. Family businesses are more frequently inclined to partner with a financial player - a private equity firm for instance, and increasingly often family offices - to realise their growth plans. As family businesses are confronted with succession issues - passing the business on to the next generation - or looking to finance their growth, M&A opportunities are being created in this area of the market.
"As we live in a volatile world, conditions might change rapidly in 2023, and economic and M&A activity could return swiftly. Companies and investors will work hard to have their plans and targets ready so that they can respond quickly and precisely if the opportunity presents itself," states Philippe Estas, Partner in PwC Belgium's M&A practice.
More information about the PwC's Global M&A Industry Trends: 2023 Outlook
###
Notes to editors
Source: Refinitiv and PwC analysis

Industry and geography is based on the target company (vs. buyer)

Data was pulled on 02 January 2023 and mapped to PwC's global industry taxonomy